Facebook CEO喜得千金 宣布捐99%股份做慈善

Facebook CEO xǐ dé qiānjīn xuānbù juān 99% gǔfèn zuò císhàn
Language:中文 pin yin English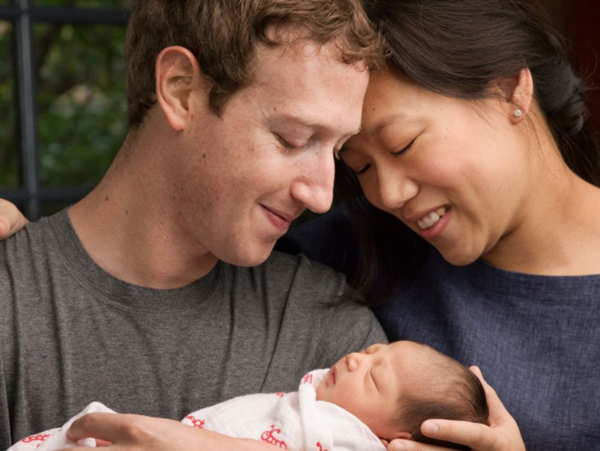 Facebook CEO喜得千金 宣布捐99%股份做慈善
Facebook CEO xǐ dé qiānjīn xuānbù juān 99% gǔfèn zuò císhàn
Facebook CEO马克·扎克伯格为自己刚出生的女儿取名"Max",为了纪念女儿出生,他捐出大部分财产。
Facebook CEO Mark Zuckerberg just had a baby girl named Max, and to honor the occasion he's giving away a massive portion of his wealth.
这位技术领航者周二在社交网络上宣布,自己第一个孩子出生; 同时他也宣布成立陈·扎克伯格计划。这份声明由扎克伯格和妻子普莉希拉·陈共同书写,被当做送给新出生女儿的一封信。  
The tech leader took to the social network Tuesday to announce the birth of his first child and the formation of the Chan Zuckerberg Initiative. The announcement was framed as a letter written by Zuckerberg and wife, Priscilla Chan, to their new baby girl.
"为使得你们这代人的世界更美好,我们这代人可以贡献很多,"扎克伯格写到。"今天,你的妈妈和我决定将终身致力于解决这些问题。"  
"For your generation to live in a better world, there is so much more our generation can do," Zuckerberg wrote. "Today your mother and I are committing to spend our lives doing our small part to help solve these challenges."
据Facebook高管透漏,陈·扎克伯格计划将致力于"个性化学习、治疗疾病、联系他人和建立强大的社区"上。扎克伯格和妻子几乎会将他们所有股份都捐赠给这项事业。"致力于这项事业期间,我们将捐出99%的Facebook股票,目前市值约为450亿美金"他写到。"我们很清楚,与其他已经致力于这项事业的人们相比,我们这些付出算不了什么。但我们想尽自己一份力,和其他人一起努力"。 
According to the Facebook head, the Chan Zuckerberg Initiative will focus on "personalized learning, curing disease, connecting people and building strong communities. Zuckerberg and Chan will donate nearly all of their Facebook stock to the cause. "We will give 99% of our Facebook shares -- currently about $45 billion -- during our lives to advance this mission," he wrote. "We know this is a small contribution compared to all the resources and talents of those already working on these issues. But we want to do what we can, working alongside many others."
《Business Insider》(美国知名的科技博客、数字媒体创业公司、在线新闻平台)提到,马克·扎克伯格在2010年就签订了《捐赠誓言》,这就意味着他要把自己超过一半的财产用于慈善事业。《捐赠宣言》由比尔·盖茨和沃伦·巴菲特共同发起。因为扎克伯格曾经说过盖茨是自己的英雄,所以他签订捐赠宣言也就显得很合理了。
As Business Insider noted, Mark Zuckerberg signed the Giving Pledge in 2010, which meant he committed more than half of his wealth to philanthropy or charity. The Giving Pledge was started by Bill Gates and Warren Buffett -- which is suitable given that Zuckerberg has said that Gates was his hero.
个性化(ɡèxìnɡhuà)personalize