Language:中文 pin yin English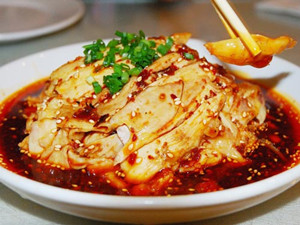 邦妮:黛西,口水是什么?
黛西:比如说,他饿了,看见汉堡就流口水。口水是嘴里流出来的液体。
邦妮:啊,老板说晚上一起吃口水鸡。
Bonnie:Daisy, what is spit?
Daisy:For example, if a guy is hungry and he sees a hamburger, he will start to drool spit. Spit is a kind of liquid that flows out of the mouth.
Bonnie: Oh, our boss promised to treat us to steamed chicken with chili sauce tonight.
"流口水"指因想吃东西而分泌唾液,或者指任唾液等液体从嘴里流出。
"Drooling" means that one's mouth waters because of hunger, or when a liquid falls from one's mouth.
例如(for example):
Those look so delicious that I'm drooling quite a bit.
You will drool as soon as you see a beautiful woman.
在常温下,水、酒、水银等都是液体。
At room temperature, water, wine, and mercury are liquid.
比较:⑴液体:水,酒,水银
⑵固体:岩石、木材、玻璃
⑶气体:空气、氧气、沼气
Comparison: ⑴Liquid: water, wine, mercury
⑵Solid: rock, wood, glass
⑶Gas: air, oxygen, methane
口水鸡是一道凉菜,以鸡、白糖、麻油等为主要食材。
Steamed chicken with chili sauce is a cold dish whose main ingredient contains chicken, sugar, oil, and so on.
图片来源: Baike.baidu.com/view/2108/htm