最奇怪的事

The strangest thing
Language:中文 pin yin English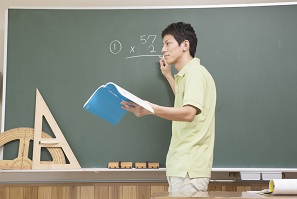 课堂上,吕老师要求学生以"最奇怪的事"为题写一篇450字的作文。
丫丫很快就写好了,非常开心地把作文交给老师。
谁知,把老师给气坏了。
原来,丫丫的作文只有一句话: "最奇怪的事情是,吕老师明明是男老师,却总说自己是女老师。"
吕老师气急了,大声对丫丫说:"我是吕老师,不是女老师"!
During class, Mr. Lv asked the students to write a composition of 450 characters on the topic of "The Strangest Thing."
Yaya wrote quickly, and very happily handed her work to the teacher.
But Mr. Lv got angry when he saw the paper.
On the paper, there was just one sentence: "The strangest thing is that Mr. Lv is so obviously a man but always says that he is a woman."
Mr. Lv grew very angry, and said loudly to Yaya: "I'm Mr. Lv, not a female teacher!"
1.以X为题
"以X为题"表示书籍或演说等把X作为题目进行阐述。
"以X为题" means a book or speech with the topic or title of X.
例如(for example):
①
He wrote an article on the subject of environmental pollution.
他以环境污染为题写了一篇文章。
②
Michael wrote his Master's thesis on ancient Greek art.
迈克尔的硕士论文以古希腊艺术为题。
③
Darmawalla asked her students each to write a composition entitled "My Hobby."
Darmawalla要求她的每一名学生写一首以《我的爱好》为题的作文。
2.把A给气坏了
"把A给气坏了"表示A非常生气。
"把A给气坏了" means to make A furious.
例如(for example):
①You're driving him up the wall.
你把他给气坏了。
②All of them drove their father wild.
这一切都把爸爸气坏了。
③The cancellation of the basketball match really irked him.
篮球赛的取消真把他给气坏了。
3.原来
"原来"表示结果是、证明是。
"原来" means to turn out to be.
例如(for example):
①So this was your secret?
原来这就是你的秘密?
②Those reasons turned out to be your excuses.
那些理由原来都是你的借口。
③So you didn't actually do anything?
这么说原来你什么也没做?
图片来源:
http://www.nipic.com/show/1/14/3f0c0d202f458704.html