我是去打酱油的

I'm just passing by
Language:中文 pin yin English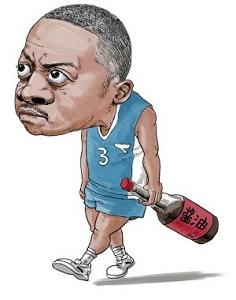 安娜:艾尔玛,下午你去参加比赛吗?
艾尔玛:我去,不过我是去打酱油的。
安娜:柜子里还有一瓶酱油没用呢,你不用去买了。
Anna:Elma, are you going to participate in the competition this afternoon?
Elma:I'm going, but I'm just passing by.
Anna: There's a bottle of soy sauce in the cupboard; you don't have to buy any.
"打酱油"的本义指买酱油去,也是网络上用语,表示事不关己,只是路过或围观。
The original meaning of "打酱油" is to buy soy sauce. It is also a phrase commonly used online, where it means to be a bystander.
例如(for example):
①
Even if the politicians don't wreck it, the judges will take action.
即使政府决定打酱油,法官也会采取行动。
②
Did you think I was here to fool around?
你以为我在这里是打酱油的么?
"比赛"一般由多个人参加或者以团队参赛,在一些规则下去竞争,一般会产生一定的结果。
A competition, or "比赛," usually consists of multiple individuals or teams that compete according to certain rules, and in the end, there tend to be definite results.
例如(for example):
①
Can you not wait to compete?
②
Why are you entering a design competition?
为什么你要参加一个设计比赛呢?
"瓶"是量词,用于瓶装的东西。
"瓶" is a measure word for bottled goods.
例如(for example):
①
I want to buy a big jar of jam.
我想去买一大瓶果酱。
③
Don't you have a bottle somewhere?
你不是有一瓶酒吗?
图片来源: http://sports.qq.com/a/20101228/000409.htm