Language:中文 pin yin English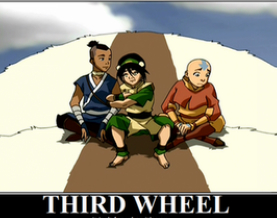 王磊:听说他们俩明天要去看电影。
亚当:我也想去看,咱们和他们一起去吧。
王磊:我可不想当电灯泡。
亚当:你又不能发光,怎么当电灯泡了?
Wang Lei: I heard that they are going to see a movie tomorrow.
Adam: I want to see a movie too. Let's go with them.
Wang Lei: I don't want to be the third wheel.
Adam: You can't shine, how can you be a light bulb?
1. 听说
"听说"表示说话人所说的并不是自己亲眼看到或亲耳听到的,而是从别人口中知道的。
"听说" means something that the person speaking has not seen or heard himself, and has instead received or heard this information from others.
例如(for example):
I heard his parents had divorced for a long time.
I heard there will be an exam next time and I haven't prepared for it.
2. A和B一起
"A和B一起"表示A和B一起做某件事情。
"A和B一起" means A and B do something together.
例如(for example):
① 我们班明天和他们班一起去旅游。
What a pity! I missed yesterday's match again.
② 我非常想和你一起去,但是今天确实太忙了。
I really want to go with you tomorrow, but I am very busy today.
3. 电灯泡
"电灯泡"有两个意思,一是指发光的灯,二是指男女谈恋爱时碍事又不知趣的第三者。
"电灯泡" has two meanings, one refers to a light and the other refers to being a third wheel.
例如 (for example):
① 这个电灯泡坏了,你去买个新的吧。
This light bulb is broken; could you go to buy a new one?
② 他们两个人一起去旅游,你可不能跟着做电灯泡。
They are going to travel together, so you better not go with them and end up the third wheel.
图片来源:http://www.qiewo.com/