Language:中文 pin yin English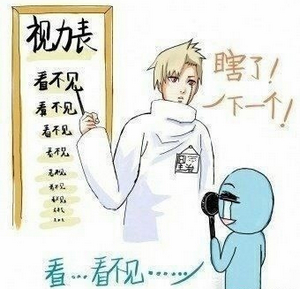 徐璐:她上周说会来帮我的,今天说不来了。
贝拉:为什么?她是不是特别忙啊?
徐璐:她就是不想帮。和她做朋友,我真是眼瞎了。
贝拉:你的眼睛怎么了?要不要去医院啊?

Xu Lu: She said she would come to help me last week, but today she told me she wouldn't be able to come.
Bella: Why? Is she very busy?
Xu Lu: She just doesn't want to help. I am blind to how to make friends with her.
Bella: What's wrong with your eyes? Do you need to go to hospital?

1. 就
"就是"可用作副词,一般用在名词或动词前,表示"只是、仅仅"的意思。
"就是" can be used as an adverb before a noun or verb. It means "just."
例如 (for example):
① 我很喜欢你的朋友,就是不太喜欢小明。
I like your friends, but just don't like Xiao Ming.
② 她非常聪明,就是不爱学习。
She is very clever, but just doesn't like to study.
2. 眼瞎
"眼瞎"表示一个人的眼睛看不见,可用来比喻一个人的眼力差。
"眼瞎" means a person's eyes are blind, and it is used as a metaphor to mean a person has a bad judgment.
例如 (for example):
① 她的眼睛去年就瞎了。
Her eyes have been blind since last year.
② 你找了个这样的人结婚,真是眼瞎了。
You are blind to marry such a person.
图片来源:
http://image.baidu.com/i