女儿国泸沽湖(上) Lu Gu Lake – The Female Kingdom Ⅰ
Language:中文 pin yin English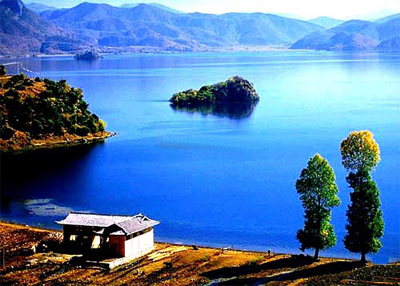 过去两个月的中国之行中,我到了中国西部,领略了那里的壮丽景色,也探索了不同的少数名族文化。从昆明石林,到香格里拉,再到大理、丽江,我真真切切地感受到中国是一个拥有众多少数民族的多元文化国家。许多当地人都敞开大门欢迎我,与我分享他们的文化。尽管大多数少数民族居住偏远,很难去,但我到每一个地方,都受到了当地人的热情接待。
During the past two months of my travels in China, I went to the Western region to experience for myself the splendid scenery and explore the different cultures of ethnic minorities. From the Stone Forest in Kunming to Shangri-La, Dali and Lijiang, I distinctly felt that China is a multi-cultural country with numerous ethnic minorities. Many local people openly welcomed me and shared their culture with me. Although most minorities live in areas remote and difficult to reach, I was warmly received by the local people in each place.
为了更多地了解摩梭族的传统文化,我决定在泸沽湖停留一阵。当然,我也想更多地了解传说中的"走婚",并亲自和当地的摩梭人交流,了解他们的婚姻习俗。
In order to learn more about the traditional culture of the Mosuo ethnic group, I decided to spend a little time in Lu Gu Lake. Of course, I wanted to know more about the legendary "walking marriage" and communicate with local Mosuo people in order to understand their marriage customs.
从丽江出发,经过6个小时的山路颠簸,我到达了位于喜马拉雅山脉的泸沽湖。这里是四川和云南的交界处,景色迷人。司机带我到两个当地农民家里,他们对我的中文水平赞口不绝,热情地邀我吃自己家里种的苹果,却没有意识到他们的烟熏得我眼睛好难受。不过,此行还是物有所值的!
Departing from Lijiang and after 6 hours of bumpy mountain road, I arrived at Lu Gu Lake in The Himalayas. This is the junction between Sichuan and Yunnan. The landscape was beautiful. The driver took me to the house of two local farmers. They complimented my Chinese. They warmly invited me to taste their homegrown apples, but didn't realize the smoke of their cigarettes irritated my eyes. But this trip was well worth it.
到达泸沽湖后,我深切感受到这里就是一个母系社会。在这里,我惊奇地发现,传统中男人们做的工作都是女人们在做:建筑工人、商店老板、小型企业家基本都是女性。
After I arrived at Lu Gu Lake, I deeply felt the matriarchal nature of their society. I was surprised to find that the work traditionally done by men was actually done by women; construction workers, shop owners and entrepreneurs were basically all women.
看到这些我开始明白,为什么当地人说泸沽湖是世界上最后一个现存的母系氏族社会。在这里,女性是一家之主,继承家族财产,是商场、职场的主角。在摩梭族的文化中,最著名也最让人难以理解的是他们的"走婚"。在摩梭族的文化中,很少有传统意义上的婚姻,大部分的女性都实行"走婚"。在"走婚"文化中,如果一个女性喜欢一个男性,想跟他发展关系,她会邀请男性到自己的房间里过夜。但是,每次过完夜,男性会在第二天早上早早地回到自己的"娘家"。
After seeing this, I began to understand why the local people say Lu Gu Lake is the last existing matriarchal society in the world. Here, the female is the head of the family and inherits the family property. They assume the leading role in markets and in the workplace. In the culture of Mosuo, the most famous and most difficult to understand is their "walking marriage". In their culture, there is no traditional marriage; most women carry out the "walking marriage". If a woman likes a man and wants to have relations with him, she will invite him to spend the night in her room. But very early the next morning, the man will return to his own house.