女儿国泸沽湖(下)Lu Gu Lake – The Female Kingdom Ⅱ
Language:中文 pin yin English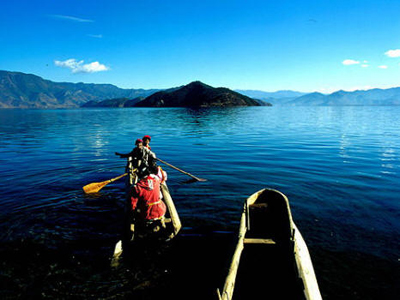 在摩梭族文化中,女性13岁就有自己的房间,可以邀请意中人一起过夜。如果男女双方发生关系有了孩子,那么,抚养孩子的主要责任在女方家,孩子的舅舅、外婆、母亲是孩子的主要抚养人。但是,女方应该知道孩子的父亲是谁,并且父亲有义务参加孩子的重要活动,如孩子的生日。
In Mosuo culture, girls at the age of 13 have their own room and can invite their loved one to spend the night. If they have relations and become pregnant, the main responsibility of raising the baby lies on the female's side, and the new mother's brother, grandmother and mother play the lead role in fostering the child. However, the child should know who the father is and the father has the responsibility to join in on the child's important events, such as birthdays.
在了解泸沽湖的旅途中,我觉得很有趣的是,可以问当地人一些问题,了解真正的摩梭族文化,对我以前在书本中看到的东西提出质疑。我寄宿的家庭都很友好,人们很乐意回答我我的问题。从他们那里我了解到,虽然摩梭族女性可以随意选择交往对象,但很少有摩梭族女性会在同一时间里有几个交往对象。
During my journey of learning about Lu Gu Lake, what I found interesting was personally asking the local people questions in order to understand the true nature of Mosuo culture, which raised doubts in my mind about things I had read in books before. My homestay family was very nice and they were willing to answer my questions. I learned from them that although Mosuo females can choose their partners at will, they seldom have more than one partner at the same time.
一些男女关系会持续终生,而且,由于受汉族等其他外来文化的影响,这种持续的关系在摩梭族文化中开始盛行。走访了摩梭族村民和当地居民,我还发现,如果非摩梭族的男性和摩梭族的女性发生了关系,那么,"走婚"的习俗就会被打破。因为,这时女性通常会和男性结婚。此外,由于这里旅游业的兴起,越来越多的摩梭族男性也成了客栈的老板,开始寻求自己的"地位"。
Some of these relationships between the two sexes will last throughout their lifetime. In addition, due to the influence of the Han nationality and other foreign cultures, these long-term relationships have become popular in Mosuo culture. I interviewed some Mosuo villagers and local residents. I found out that if a non-Mosuo male and a Mosuo female have relations, the custom of the"walking marriage" will be broken. Usually, the female marries the male. Moreover, as a result of the growing tourist industry, more and more Mosuo males become hotel bosses who begin to seek for their own "status".
在继续我的中国少数民族探索之旅的同时,我不会忘记泸沽湖居民的热情好客。摩梭族只是中国56个民族之一,每个民族都有自己的传统习惯、价值观及信仰。有些风俗和汉族很相似,有的又截然不同,如"走婚"。
In the meantime,as I continue my journey and exploration of Chinese ethnic minorities, I won't forget the hospitality of the residents of Lu Gu Lake. Mosuo Nationality is only one of China's 56 nationalities. Each one has its own traditional customs, concepts of value and faith. Some of them are familiar with those of the Han Nationality. Some are totally different, such as the"walking marriage".
然而,我相信,正是这些不同的文化让中国的文化呈现出多元化,值得探索。在泸沽湖的一周里,晚上对月当歌,欣赏当地舞蹈,和当地人一起畅聊饮酒,实在是乐在其中!我永远不会忘记我在这里建立起来的新友谊,更不会忘记淳朴好客的当地人是如何乐于与一个外来人分享他们的文化的。
But, I believe it's these differences that make Chinese culture diversified and worth exploring. During my week-long stay in Lu Gu Lake, I sang under the moon, enjoyed local dancing, chatted and had a drink with local people. What fun I had! I'll never forget the new friendships I made there and how the simple and hospitable local people willingly shared their culture with a foreigner.