北京之行(上)Trip to Beijing (part one)——何备雷
Language:中文 pin yin English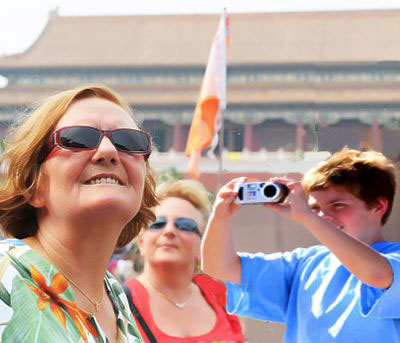 过去几天,我一直在中国的北京。一转眼,距上次到北京已经一年多了。2008年我回美国之前到北京看了奥运会,2009年我又陪伴家人游览了北京。

In the last few days, I have stayed in Beijing, China. One year had passed since my last trip here. In 2008, I came here to watch the Olympics before I went back to America and in 2009 I accompanied my family to Beijing again.
北京是个令人惊讶的城市,也是我最喜欢的中国城市之一。这个城市里有很多"老外",这也让我很惊讶。当我在逛街,买东西,或者随便做什么事情的时候,有人会停下来,看着你。有的外国人会忽略额外的关注,而也有一些人会喜欢。对我自己而言,我试着去理解当地的人民,学习他们的文化,就这样。北京是个很大的城市,当我在这里的时候,我选择去探索这个城市,见本地的人,吃本地的食物。来北京这几天,我已经发现很多有意思的东西。
Beijing was an amazing city and also one of my favorite cities. There were lots of "Laowai" here which was to my surprise. When I was shopping or doing something else, passers-by would stop and look at me. Some foreigners preferred to ignore this extensive attention and some liked it. Personally, I would try to understand the local people and learn their culture. That was it. Beijing was a big city and when I was here, I chose to explore it, met people and enjoyed the foods. During my stay in Beijing, I had already found many interesting things.
首先,虽然说北京有很多的外国人,但是外国人和中国人之间的互动却很少。很明显的是当我去一个本地的餐馆的时候,只有本地人去吃,而我点东西吃起来的时候,我发现几乎所有的人都在盯着我,有对夫妇带着小孩子一直盯着我,那个小孩子指着我对他妈妈说:"外国人,看外国人"。他的爸爸妈妈笑了一下,然后给了我一个让我很紧张的微笑。
First of all, though a great number of foreigners lived in Beijing, they seldom had interactions with the local people. For example, once I went to dine in a restaurant where rarely received foreign customers. As I was eating, I found almost everyone was looking at me including a couple with their kid. The kid then pointed at me and said to his mother "foreigner, look at that foreigner." His parents chuckled and then gave me a smile which made me feel embarrassing.
在这个国家,这种事情发生在我身上已经很多次了,我现在已经习惯了。但是更奇怪的是,当我回过头,看见一个50多岁的人和他的朋友一直盯着我。于是我问朋友,难道我真的看起来那么与众不同?
In this country, such thing happened to me for many times and I now have already got used to it. But I still felt strange when I looked back and saw a 50-year-old man and his friend stared at me. Then I asked my friend "Am I so different?"
那个人回到他的座位后,仍然盯着我长达5分钟。我转过头然后对他说:"我一定是很帅,否则你怎么一直盯着我看?"他大笑了一下,然后告诉我:"我来自云南,我这辈子都没见过外国人。" 我向他介绍了我自己,然后问他是否愿意和我合影,后来我把我的中文博客地址告诉了他,我希望他能够读到我这篇文章,并且认识到,我没有他想象得那么与众不同。
When the man returned to his seat, he still kept looking at me for 5 minutes. I turned back and said: "I must be very handsome, or you will not look at me continuously." After that, he laughed and told me that he came from Yunnan and never met a foreigner before. I introduced myself to him and asked him if he would like to take a photo with me. I then gave him my Chinese blog address and hoped him could read this article online and realized I was not so different as he thought.