北京之行(下)My Trip to Beijing (part two)——何备雷
Language:中文 pin yin English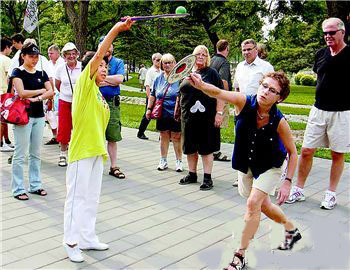 当我去北京天安门时,我发现中国人似乎对在公共场所活动更有兴趣。在我去的每个北京的公园,都有人在那儿跳舞,唱歌,或者做运动,当我在中国时,我特别喜欢观看他们玩,有时候我也参与到当地人的运动中去。中国人是很友好的,而且喜欢运动,比如说羽毛球,踢毽子,公园跳舞,和乒乓球。
When I went to Beijing's Tian'anmen Square, I found Chinese people seemed more interested in public activities. No matter which part I went, I would always see people dancing, singing or doing sports there. I was fond of watching them playing and sometimes I even joined them. Chinese people were kind and sports lovers. They liked playing badminton, kicking shuttlecock, group dancing in the park and playing ping-pong.
最后,我在北京旅行过程中,都会问问我在中国别的地方都问的问题。你的生活怎么样?你住的条件怎么样?你喜欢北京的哪些方面?等等。被问的人不一样,所以他们的答案也不一样,但是我遇到了许多生活得很好的人(按照美国人的标准)。
Finally, during my trip to Beijing, I asked many people questions I habitually asked anywhere else in China like "how about your life? How is your living condition? Which parts do you like about Beijing?" and so on. Different people would give me different answers. However, I still met some ones in Beijing whose lives were quite wonderful (according to the American standards).
现在我已经到了青岛,但我还在回忆在北京短暂的停留。我开始相信,尽管竞争很激烈,但那些很聪明,有关系,而且有很好的计划的人还是能够在这个国家的竞争中成功。我也看到了很多人来自低收入的地方,来自贫穷的家庭。通过努力工作,他们也能够得到他们想要得收入。
Now I am back in Qingdao but I still constantly remembered my short stay in Beijing. I began to believe that despite the fierce competition, those smart, good at interpersonal relations and well-prepared people can still have an edge over the others. I witnessed many people who were nurtured in poor families but got what they want with hard work.
我期待着在青岛可以待上一段时间,学习当代汉语和古典汉语。另外,我也期待着可以继续探索中国文化的不同的方面。
I expect to stay in Qingdao for a longer while and learn modern and classic Chinese here. Besides, I am looking forward to finding more about Chinese culture.