为什么那么多美国人学中文? Why There Are So Many Americans Learning Chinese?
Language:中文 pin yin English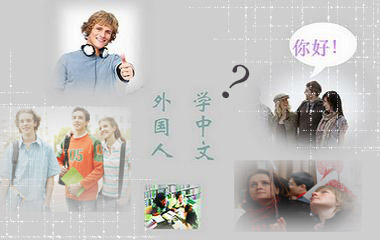 在美国,有一个笑话:
如果一个人懂得三种语言,那他是?--Trilingual(懂三种语言的人)。
如果一个人懂得两种语言,那他是?--Billingual(懂两种语言的人)
那只懂一种语言的人是什么样的?答案是:美国人
In the U.S., a joke goes like this:
If one knows three languages, then who is he? –Trilingual (one who knows three languages).
If one knows two languages, then who is he? –Bilingual (one who knows two languages).
Then how about the one who knows only one language — the answer is he is an American.
昨天是我生日。我和朋友一起去了青岛崂山。然后我们一起吃饭,看足球赛。除了2007年,
从2005年开始我每个生日都是在中国度过的,而且我都记得每个生日是怎么过的。在中国,我已
经去了不少地方,而且认识的人也不少。在这个过程中,我对中国的态度发生着变化。通过文化
和语言的学习,我更加相信中国是一个充满了机遇的国家。
It was my birthday yesterday, and I went to Laoshan Mountain in Qingdao with my friends. Then we had meals together and watched the football match. Except the year 2007, I have spent each of my birthdays in China since 2005 and I can still remember how I spent the days. I have been to many places in China and have got to know quite a lot of people. During my stay, my view on China has undergone great changes. Through studying its culture and language, I have become more and more convinced that China is a country full of opportunities.
有的朋友不知道为什么外国人对中国感兴趣。我想说四点原因,让我继续对学习中文和中国
文化保持兴趣和信心。
Some people can't understand why foreigners are interested in China. Here I would like to give four reasons that always spur me to explore new about China.
1、全世界有14亿多的中国人,有约五分之一的人讲中文。无论你到哪个地方,总是会有中国
人在那里。
1. There are 1.4 billion Chinese people in the world, and about one fifth of the world population speaks Chinese. So, wherever you go, you can always meet them.
2、中国已经成为美国最大的贸易伙伴国之一。超过了16,000的美国公司在中国销售他们的
产品。贸易不仅是从中国到美国,同时从美国到中国的贸易也有很大的规模,2006年已经达到418
亿美金。
2. China has become one of the biggest trade partners of the U.S., and more than 16,000 American companies are selling goods in China. The trade flow does not only go from China to the U.S. but considerably from US to China as well. The trade volume for the year 2006 amounted to 41.8 billion US dollars.
3、中国政府已经变得很有地位和影响力。美国政府投巨资建造了新的北京大使馆。这个大使馆是美国在全世界投资第二大的大使馆,因为中国在外交关系上变得非常重要。
3. The Chinese government has been more important and influential internationally. The U. S. invested a huge sum of money in building its new embassy in Beijing. This is the embassy with the second largest investment by America, reflecting the extraordinarily significant diplomatic relations between China and US.
4、中国有着5000年的历史和全球第四大的国土面积。了解中国和中国的各个民族,就可以花掉你一辈子时间。
4. China has a history of 5000 years and is the fourth largest country on the earth. It will take your life time to learn this country and its peoples.
作为在中国生活的美国人,我发现很多中国人抱怨这个国家哪哪不好。其实在中国有很多机
遇,国内的和国际的机会。通过上面的几个我为什么学中文的理由,我想对我的中国朋友强调的
是:学习英语真的很重要,这样可以帮助你利用很多令人惊讶的机会来和世界交流。
As an American living in China, I find many Chinese are complaining China for this or for that. In fact, they can have many opportunities in China, both national and international. Though I stated the importance of learning Chinese for foreigners above, I also want to suggest my Chinese friends to learn English because it can give you an access to more opportunities of communicating with the world.