文化和语言不分家(上)Culture and Language CANNOT be Separated (Part One)
Language:中文 pin yin English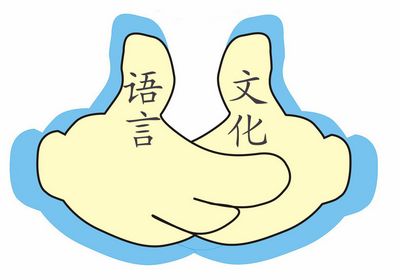 最近我遇到了两个很厉害的学生,他们给了我一种对文化和语言新的认识。这两个学生一个是中国人,一个是韩国人。尽管他们都出生并且生长在亚洲,但是他们学习美国文化的那种能力让我印象深刻。很多人(包括同学、朋友和我自己)都达不到一个文化层面流利的高度。课堂里学语言是一回事,但是了解文化的差异是另外一回事。我认为,为了真正学到文化,需要和当地的一些团体或者个人一起生活好多年。但是对于很多来到美国的中国朋友来说,他们和中国的同学、朋友们待在一起会觉得舒服。当然,许多美国同学也只是开始学习中国的语言,或者一些有关古代文化的知识。同样,当我的美国朋友来到中国学习时,大多数时间他们也是和美国人待在一起。我认为,学习外语的真正价值就是去了解文化社会的各个不同方面。
Days ago I met two great students who give me new insight into both language and culture. One of them is Chinese, and the other is Korean. Both of them are born and nurtured in Asia, but their ability of learning American culture has impressed me much. Most people (including my friends, my classmates and me) can not be so adaptable to another culture like them. As a matter of fact, to learn a language in school is one thing, and to understand the cultural differences is another. For me, it is necessary to live with the native speakers for many years in order to know their culture. However, for many Chinese people who came to live or study in America, they would feel comfortable with their fellow countrymen. And quite a number of Americans who come to China intend to learn the language or something about its culture. Similarly, when my American friends came to China, they always choose to stay with Americans. In my opinion, the true value of learning a foreign language is to know the different aspects of the culture and society where the language evolves.
文化是很难懂的,很让人沮丧和疑惑。试着去弄懂,为什么世界另外一端的人要这么做可以让人很郁闷。记得曾经有一次在中国,中国同屋没有经过我同意就用了我的电脑。我看到之后很生气地说:"你在干什么?在美国,从来没人碰我的东西。"后来我发现,和朋友分享东西在中国的文化里是很平常的。在美国,我从来没有让人用过我的电脑,而在中国的宿舍中,用朋友的电脑这种事情却很平常。当然这只是小小的文化差异。我常常发现,中国朋友和美国朋友彼此抱怨其实都是一种误解。比如,昨天我去杂货店来查收我的东西,有一个中国女人排在我前面。那个女人买完东西,没有说一句话就离开了。收银员对我说:"我不喜欢亚洲人。他们看着你都不说一句话。"在美国南方文化中,通常我们会对别人说"嗨,你好",尤其是当我们遇到陌生人的时候。但在中国,如果不认识对方,人们通常不会说话。
Culture is hard to understand, and sometimes it makes people frustrated and confused. To understand why people from the other side of the globe prefer to do things this way or that way may be very difficult. I remember once when I was in China, my roommate used my computer without my permission. I got mad at him and said: "What do you think you are doing? In America, no one can touch my private stuff." Later I found that it is very common to share things with friends in China. In America I have never allow anyone to use my computer, but it's an ordinary thing to use others' personal computer in China. Of course this is only a fragment of cultural difference. I've come to realize what Chinese and Americans are complaining is actually a kind of misunderstanding of cultural differences. For example, yesterday a Chinese lady stood in front of me in the line when I was going to check out in the supermarket. She paid for her stuff and left without a word. The cashier said to me: "I don't like Asians. They usually look at you without saying anything." In American South, we would greet each other, especially when we first meet. However, in China, people would not initiate a conversation if they don't know each other.