韩国人的疑问 Questions from Koreans——金针菇
Language:中文 pin yin English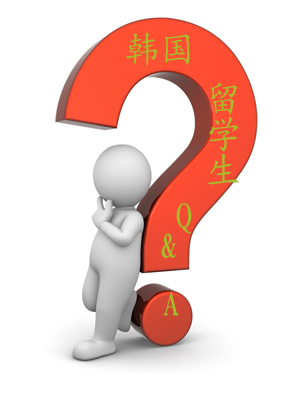 前几天有个韩国朋友突然给我打电话,说从这个月开始,南开大学留学生会发行的报刊打算增加一个栏目,就是"模范留学生"。很多留学生都推荐了我这个朋友,而这个朋友却推荐了我。我本想推辞的,但是抵挡不住帅哥劝说,只好答应。按道理,应该是一个韩国留学生来采访我,但是由于时间比较紧张,他就给我发了一个邮件,里面一共有十一个问题。
Days ago a Korean friend called me, telling me that the newspaper issued by the overseas students' union of Nankai University would open up a new column named "Model Oversea Student". Many oversea students recommended my friend but my friend recommended me instead. I had wanted to decline but finally I accepted it because I couldn't bear to turn down a handsome boy. Naturally, there should be an interview between me and a Korean host, as he had no time he sent me an email instead where attached eleven questions.
以前差不多都是中国人问我这样那样的问题,这次是韩国人提问,觉得还蛮有意思的。这些问题跟中国人问得差不多,但是还是有些不同的。以下是我翻译过来的提问和回答。
Usually these questions are asked by the Chinese before, but this time I found it is quite interesting to be asked by a Korean. These questions are much like those from the Chinese, but some of them are different. Here I translate some questions and my answers as follows.
Some questions are related to my personal information, so I'm not going to list here.
1. 怎么跟中国人做朋友?
我觉得大部分中国学生比较低调、含蓄。所以想跟他们做朋友,第一次交往一定要主动跟他们说话。一旦迈出了这一步,下面就容易了。大部分中国人对韩国人还是蛮热情的,他们刚开始会问你很多有关韩国的问题,这样慢慢地就成为了朋友。
Q1: How to make friends with the Chinese?
I think most of them are modest and reserved. If you want to make friends with them, you should initiate the conversation for the first time. As the first step is taken, it will be easier for you to act next. Many Chinese are kind to Koreans, at the beginning they will ask a lot of questions about Korea, and gradually they will become your friends.
2. 请你告诉我们你学习汉语的秘诀
我看到很多留学生学习汉语的时候,都着重于语法方面。我个人认为还不如利用这个时间,多看看中国的杂志,报纸,书籍等等,这样效率更高一些。我刚开始学汉语的时候,根本没有学习语法,但是天天看中文书,天天跟中国朋友在一起,自然而然地就有了语感。
Q2: Please tell us your secrets of learning Chinese.
I notice that many Korean students pay a lot of attention to grammar. As for me, I'd rather read more Chinese magazines, newspapers, and books, which I think is more effective. When I began to learn Chinese, I didn't labor on grammar at all. Instead, I read Chinese books and spent time with my Chinese friends every day, and gradually got the language sense.
3. 你学习汉语的时候,最困难的一点是什么?
我学汉语学得还是比较容易,毕竟有这么好的语言环境。但是刚开始的时候发音和声调上还是有些困难。
Q3: What's your greatest difficulty in learning Chinese?
It's comparatively easier for me to learn Chinese, since I have such a good language environment. However, I still have certain trouble with pronunciation and tones.
4. 你觉得中国是一个什么样的国家?(优点和缺点)
首先说句实话,我很喜欢中国。我在中国生活的时候,总觉得自己是一个中国人。中国像每个国家一样都有优点和缺点。我觉得这个问题太大了一些,我就长话短说。先说优点,大部分中国人都特别好,还有中国有很多美食,最重要的一点就是我现在的专业是中国古代文学,学这个专业能提供最好学习环境的当然是中国喽。说缺点的话,就是有时候办事效率很低,而且像天津这所城市,在交通、环境等方面有很多需要改进的地方。
Q4: How do you think of China? (advantages and disadvantages)
To tell the truth, I really love China. I feel as if I were a Chinese when I am here. Like any other countries, China has its advantages and disadvantages. This is a big topic for me, so I will narrow it down. As for advantages, many Chinese are very friendly, and there are a lot of delicious foods here. More importantly, since my major is classic Chinese literature, China of course provides the best academic environment for me. As for the disadvantages, sometimes the Chinese are not efficient; for example, here in Tianjin, many aspects such as the traffic and environment are in need of improvement.
5. 你到中国之后,得到了什么,失去了什么?
(这个问题让我想了半天,说实在的,我到中国之后,我觉得我并没有失去任何东西。)但是非要让我挑出的话,就是我们来到中国之后,就少了跟一家人在一起的时间。除此之外,真没有什么失去的东西。我到中国之后,我结识了很多很多好人。除了汉语,还学到了很多中国的文化,而且得到了许多宝贵的经验。
Q5: What are your gains and losses after you've been to China?
(This question makes me think for a long time. To be honest, I don't think I've ever lost anything after I came to China.) If I have to pick one thing, it would be the chances I lost to be with my family. Apart from it, I can hardly think out anything that I lost. I get to know a lot of good people in China. I have learnt Chinese language and its culture, and I've acquired much valuable experience.
6. 你的座右铭是什么?
我不知道该怎么翻译,大概的意思就是做好眼前的事情。
Q6: What's your motto?
I don't know how to translate it. The main idea is to do a good job of everything that should be done at present.
7. 最后向在中国的韩国留学生说一句话。
希望你们不要忘记,在国外,你们每一个人都代表韩国。
Q7: Please say something to the Korean students in China.
I hope you all remember that each of you is a representative of Korea when abroad.