英国版"非诚勿扰" Dating on British Television
Language:中文 pin yin English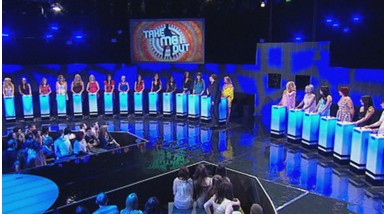 如今国内电视荧屏上充斥着各种各样的相亲节目,女选男,男选女,和爹妈、儿女一起相亲,等等,真是你方唱罢我登场。相亲节目让有些嘉宾成为公众焦点,一些大胆的言辞更是引发众议。
Nowadays, televisions screens are flooded with all different kinds of dating programs. Women choose men or men choose women, or parents accompany their children on blind dates. Some guests on the program are now in the public spotlight, and some of their bold remarks have even triggered discussion.
有男女的地方就有爱情,遥远的不列颠群岛也不例外。在英国街头,经常能看见老夫妇牵手,甚至亲吻,当着家人儿女也没关系。这是感情的自然流露,没人觉得不正常。
Wherever there are men and women, there will also be love, and the distant British Isles are no exception. In British streets, we often see old couples hand in hand or even kissing. Even in front of their children is considered ok. These are just natural displays of affection; no one thinks it's abnormal.
最近有一档电视节目在英国收视率很高,它就是一档相亲类节目,或者可以叫做约会类节目——TAKE ME OUT (可以翻译成:约会吧!)。 约会和相亲有概念上和目的上不同。约会的意思是"约着相会",目的是互相了解,交朋友,意思很中立,也许能往婚姻的道路上走,也许不能;而相亲就不同了。
Recently, a TV program with a high audience rating in Britain is a blind dating program or rather, a dating program called TAKE ME OUT. Dating and blind dating are two different concepts and have different goals. The goal of dating is to get to know each other and establish a friendship; it is more casual in nature. People may get married, or may not. However blind dating is different.
相亲顾名思义"相看亲事",这就比较严肃了,因为很明显,相见的目的就是寻找未来的伴侣,这要是选错了可是事关重大,必须擦亮眼睛,不能大意。所以,约会可以轻松浪漫,漫天闲扯,相亲一定是单刀直入,家庭、收入、是否有病史和不良嗜好都要立马说清楚。
As its name in Chinese implies, blind dating is to look for a marriage mate, which is more serious. Obviously when of looking for a future spouse, it matters a lot if you pick the wrong one. You must be careful. However, simply dating and engaging in chitchat can be relaxed and romantic. Blind dating is more straightforward, people will directly discuss their families, income, medical history and bad habits etc.
英国约会节目TAKE ME OUT在形式上和江苏台"非诚勿扰"如出一辙,都是众多单身美女站成一排,几位男士坐着电梯从天而降,轮番登场,以自述及VCR作为介绍,同样以女嘉宾集体灭灯作为他们的终结。唯一不同的是没有乐嘉和黄菡这样的专家指手画脚,也没有很让人沮丧的嗡嗡灭灯声。
In form, TAKE ME OUT is the same as the Jiangsu Television program called "If You Are The One". Several single ladies stand in a row and men appear in turn from an elevator. They introduce themselves personally or with VCR and end with a group blackout by the lady guests. The only difference is that there are no experts to express their opinions, such as Le Jia and Huang Han, or depressing buzzing.
节目主持人也像孟非一样,幽默诙谐,场上美女一般都穿着美艳性感,一个个表情轻松、手舞足蹈。女嘉宾也会比较苛刻地评论男嘉宾的外表、穿着和身高,但总体来说基本还是争先恐后的让男嘉宾为自己倾心,和"非诚勿扰"经常出现的男嘉宾黯然离场的现象形成鲜明对比。
The TV show host, like Meng Fei, is very humorous. Ladies in the platform dress beautifully. Each one is relaxed yet excited. They harshly criticize the male guests' appearance, clothing and stature. But overall, they strive to make the men fall in love with them, which is in sharp contrast to the situation where male guests depart sadly in "If You Are The One".
即便有个别离婚携子、长相没那么讨喜的男嘉宾也会因为特别的爱好被女嘉宾挑中,共度海岛游。下期节目还会播出他们度假中的画面。很多虽然牵手成功,但是如果相处坎坷,大家也都一笑了之,不去深究。
If a divorced male guest who doesn't look so handsome is picked by a lady, they go on an island vacation. . Pictures of them will be shown during the next program. Although many succeed in the program, people don't take it too seriously if they don't get along well.
在英国,如果一开始约会便问对方的收入、家庭背景,甚至教育背景是件很奇怪的事情。英国女性更看重对方的相貌、爱好和兴趣,是否有共同的话题,男生是否温柔体贴,相处会不会浪漫有趣。如果说,婚姻在中国人眼中更像一种共赢的合作,大多数人主要用理性去思考,那么在英国,婚姻更像是一场生命的体验,需要用感官去判断。
In Britain when people begin dating, to ask about the other's income, family or even educational background seems a bit strange. British women are more concerned about the other's appearance, hobbies and interest, if they can share in interesting conversation, or if they're gentle and romantic when they're dating. If according to the Chinese view, marriage is more like win-win cooperation and most people use logical consideration, Then marriage in Britain is more like a life experience to be judged by the senses.