檀香山考车记 My Driving Test in Honolulu
Language:中文 pin yin English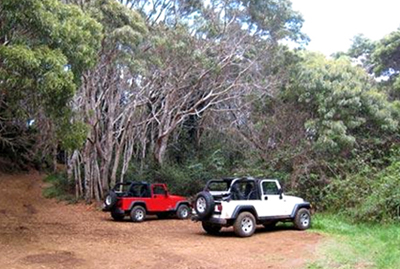 先简单介绍一下美国考驾照的流程:先是笔考,得到一个许可证,相当于练习驾照。有了它就可以在一个有照司机的陪同下在路上练车了,但是车里不能有其他乘客。笔考非常简单,一本小册子,里面大概有180道题,考试的时候抽其中30道题考。这对于善于考试的中国人来说,非常简单。
Obtaining a driving license in the USA is easy. You have to pass a written test to get a certificate with which you can learn to drive under the supervision of someone with a license, but no passengers are allowed in the car you drive. The written test is also easy, which selects 30 test questions randomly from a book. It is a piece of cake to the Chinese who are always good at exams.
第二步是路考,如果通过就可以把许可换成驾照了。美国路考简单就简单,说难也难,一不小心满盘皆输。简单说,如果犯了没系安全带、停止路标前没停这类硬伤,考官马上下车,路考彻底宣告失败。如果有幸考官让你考完,他会一路给你挑毛病,每个毛病都要扣5-10分,总分扣掉15以上,同样失败。
Afterward you will have to take a road test. If you pass the test you'll get a driving license. An easy pass should never be taken for granted, since one careless move could possibly ruin all your efforts. If you forget to fasten your seat belt or stop at a signpost which indicates a temporary pause, the examiner will get out of your car and announce your failure. If you're lucky enough to carry the test through to the end, the examiner will keep finding fault with you. Each mistake you make will be penalized for 5 to 10 points. You'll fail the test if you lose more than 15 points of your total score.
各个考官的尺度不尽相同。我第一次考的时候就碰到一位"灭绝师太",不管我如何笑容灿烂地跟她打招呼、问好,都无法牵动她脸上的一丝肌肉。这位冷面"师太"从我一上路,笔就没有停下来,左转出去太多了扣分,换道没有先看两面镜子扣分,别的车在等我我先走扣分,右转正好赶上绿灯变黄扣分……一路扣下来,惨不忍睹。
Standards of examiners may vary. I met a rather stern lady the first time I took the test, who remained cold and indifferent and didn't move a muscle of her face, even though I greeted her with as much courtesy as I could provide. She kept recording my performance from the minute I got into the car. Many points were penalized for taking an excessive left turn, forgetting to look into the mirrors before changing a lane, assuming the right of way when other cars were still waiting, and making a right turn when the green lights were turning yellow, etc. It was no surprise that in the end I failed to pass the road test.
据说美国本土有些地方路考很好过,因为地广人稀。但是檀香山这个弹丸之地,车多路窄,地形也是起伏不定,所以路考总体上还是比较难的。对于交规和细节的严格把关,让很多国内已经开了五、六年车的老司机屡考不过。对于我这种从来都没开过车的"菜鸟"来说,第一次不过也是情理之中的事情了。
It is quite easy to pass the road test in areas with wide open spaces and a sparse population. On such a pellet of land as Honolulu, the terrain is rough and rugged, and the lanes are narrow and swarmed with cars; therefore, taking a road test becomes all the more difficult. The strict examining procedure has also failed many domestic drivers with five or six years of driving experience. For a beginner like me who had never driven a car before, failure of a road test should not have come as a surprise.
但是"灭绝师太"严重地打击了我的自信心,让我在很长的时间内都不想再去考,等我决定再战江湖的时候,已经只能预约到7月中旬了,而7月份我就要回国了。不能预约,只好排号,也就是说要起很早去排队领号。
But that stern examiner had crushed my confidence to such a degree that I refused to take another road test for a long time. When I finally made up my mind to have another try, it turned out that the earliest test would be held in mid July when I ought to go back to China. Since it had become impossible to make an appointment in advance, I had to get up early to queue up for a testing number.
凌晨4点半起床,在一片漆黑之中,朋友载着我向城市广场进发。到了目的地,5点多,天色还是灰蒙蒙的,驾照"衙门"外面已经排起了队伍,好在人还不算多,十几个人的样子。排在最前面靠近门口的地方居然有一张床,被子盖得严严实实,看来还真有人彻夜排在这里。据说有人以此为生,通宵排号卖钱,一个号20美金,看来果真如此。接下来就是3个多小时百无聊赖的等待,搬出小板凳和沙滩椅,看着身后的队伍越来越长。7点45终于开门了,人们鱼贯进入,还不错,我拿到了9号。
I got up at four and half in the morning and headed for the city square with my friend in a hurry. It was a little after five and the sky was still grey when we got there. A line had already been queued up outside the bureau. Fortunately, there were only about a dozen people before me. Right at the head of the line was a bed in which someone nestled in the quilt was sleeping tight. It seemed that the man had waited there for a whole night. It is said that some people make a living by selling the numbers they have queued up for. For each number sold they can earn up to 20 dollars. We waited for more than three tedious hours on stools and beach chairs, watching the line becoming longer and longer. The bureau door finally opened at 7:45, so we filed in and luckily I got the number 9.
又是漫长的等待。9点多,终于一位老爷爷叫了"tan",我楞了半天,原来是叫我,心说我是"唐"可不是"谭"。乖乖地带着老爷爷去停车场取车,接下来的过程非常具有戏剧性。车子启动,出停车场,上路,一切顺利。几个转弯之后,老爷爷居然跟我聊起来了天,问我做什么的,从哪里来,喜不喜欢夏威夷等等……这和上次的冷面灭绝师太简直是天壤之别啊。
Then I still had to wait patiently. Finally, an old man called for "Tan" which set me in confusion for a moment before I realized that he was calling my name. I muttered to myself that my name is "Tang" instead of "Tan". I followed the old man to the parking lot to fetch a car. After that things went rather dramatically. I started the car, drove it out of the parking lot and took to the road. Everything seemed to be fine. After making several turns the old man began to talk to me. He asked about my profession and homeland, and even my opinions about Hawaii. He was so different from the cold, stern lady I met last time!
而且老爷爷相当酷,一路纸笔都未动,两只手枕在头后面,仰在副驾上,一副神清气爽的样子,就是不停地叫我右转、右转、右转,左转,左转,左转。兜了几个圈子下来,一路顺风顺水,我开得也很流畅,我已然觉得驾照在向我招手了。哪知这时候,老爷爷突然来了句,去前面的路找个车空平行泊车。啊?我的脑袋顿时大了。平行泊车就是所谓"三明治泊车",把车子停在路边停着的两辆车中间,平泊一来很难,二来近来绝少考到。
He looked really cool sitting next to me in his seat, hands behind his head in a light-hearted way. He kept telling me to turn right and left. I circled around and around and felt everything was going smoothly. I was even rejoicing inside at a forthcoming driving license. Suddenly, the old man asked me to find a place for parallel parking, which frustrated me at once. Parallel parking is also called "sandwich parking", which means the examinee has to park his car between two cars at roadside. Parallel parking is seldom tested since it is difficult and requires a lot of special training.
虽然技术不佳又练得少,此时此刻也只能硬着头皮上了,只盼望前面的路泊满了车,免此一难。结果老爷爷火眼很快找到泊位,我忐忑不安地平泊了过去,结果还是离马路牙子太远了。在老爷爷的示意下,我开始试第二把,结果一出去,忘了打信号,又离前面的车太近了,就这样,眼看到手的驾照如同煮熟的鸭子又飞走了。
A newbie like me was of course rarely trained for such parking skills. Anyway, I had to force myself this time, but still I was hoping the road ahead would be full of cars so that parallel parking might be avoided. To my frustration, the old man quickly designated a parking space, so I drove up there very nervously. When my car finally pulled up, it was too far from the roadside. The old man signaled me to try again, but this time I forgot to pass a signal to the driver before me, and my car stopped too close to his car.
回到停车场,老爷爷跟我讲解了平行泊车的要领,表示我一个星期之后可以再来,希望还可以考我,下车前还说"你是个好女孩,跟你谈话很愉快!"。看着他和气的样子,我真不知道是再遇到他好呢,还是不要遇到他好呢?
On the way back to the parking lot, the old man explained to me the skills for parallel parking. He told me to come back a week later and expressed his wish to examine me again. When we parted he told me that I was a good girl and he had enjoyed talking with me. But I was not sure whether I wished to meet him again.
后记:在第二次考车失败之后,我又清晨起床排队尝试了第三次。没有碰到第二次和气的老爷子,一个比较严肃的老爷子又让我吃了败仗。最后一次考试是在离开美国前三天。本来已经不抱任何希望了,但是一直教我学车的朋友还是鼓励我不要放弃任何机会,于是我们又在黎明前的黑暗中尝试了最后一次。有趣的是,这一次居然遇到了第三次的严肃老爷子。大概是已经有过一面之缘,这次他温和了许多,也和我聊起了天。
After my second failure, I tried a third time and didn't meet the same old man. A grave-looking old man failed me this time. My third test was taken three days before I left USA. At that time I had already given up hope for a driving license. But my friend, who had been teaching me to drive, encouraged me to hold on, so I tried one last time. I met the grave-looking old man again. As we had met once before, this time he softened up quite a bit and chatted with me.
当我说到我还有三天就要回国了,这是我最后一次尝试的时候,不知道他是否多少给了我一点同情分。总之,后面一路顺利,平行泊车根本没考,在我还没有反应过来的时候,驾照奇迹般地到手了。直到去拍驾照照片的时候,我还有点不能相信这是真的,连连感叹早知道能过,我就化个妆来了,照片还能拍好看点儿。因为接连失败三次,我只得抱着尽人事,听天命的心情去做最后一次尝试,没想到机缘巧合地过关了。
I told him I would go back to China three days later and this was the last time I took the test. I was not sure whether he would have pity on me when deciding my final score. My car pursued its course quite smoothly and parallel parking was not tested. Then, before I realized it, I miraculously received my driving license. I still couldn't believe it was true even when I went to take the photo for my license. If I had known I would be able to pass this time, I would have done my makeup to take a better photo. Having failed so many times, I had surrendered myself to the will of god, and never expected to get the driving license in the end.