尼日利亚的日子 Days in Nigeria——Kuan Baker
Language:中文 pin yin English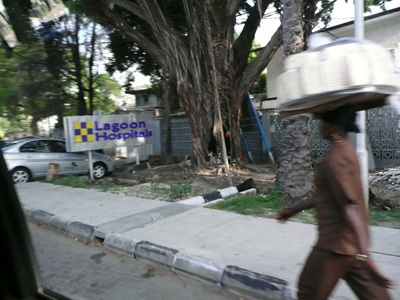 2009年暑假,我以国际志愿者的身份工作来到尼日利亚拉各斯。在一个叫做"神奇非洲"的私人电视台,我找到了一个兼职的工作。现在,我坐在位于拉各斯曼得路的"神奇非洲"的办公室向您讲述我在非洲的一天。今早是会被我们所铭记的早晨,因为所有实习生早上都准时抵达了办公室,准确地说,还提前了十分钟。
I am an intern from the People's Republic of China currently living in the Goge Africa office of Mende Maryland Lagos Nigeria, where I am completing my 2009 Summer Internship. This morning was different and memorable because it's the first time that all three foreign interns made it to the office ten minutes early.
为了这个早晨,从昨晚我们这些实习生就开始筹划了,这也是应来自台湾的实习生小黄强烈要求。为此,她必须在六点之前起床,给其他的实习生提供叫早服务。我是第二个起床的,最后,来自法国的苏菲也迫于压力响应了起床的号召。
Daphne (the intern from Taiwan), was the one to suggest we meet earlier than usual. She sacrificed the most by getting up at 6am to give us a friendly morning call. I was the second to get up while Sophie (the French Intern), was the last to heed the wake up call.
苏菲可能不是被小黄叫起来了的,因为当我早上去水箱取水的时候制造的噪音足以把她弄醒。但无论如何,苏菲终于还是起来了。今天,可能是我们三个人最后一次去"神奇非洲"上班,因为我们的实习期到8月就结束了。
I doubt that she was able to sleep very deeply because I made a lot of noise that morning while moving water from the water tanker to the bucket. Even though she was the last to get up, Sophie was ready in time for our last work day together at Goge Africa.
小黄是个可怜的孩子。她在这个地方做出了巨大的牺牲:不单单是因为今天她六点之前就起来了,而是她每天早上都得按照这个点起床。这对于她,一个土生土长的台湾同学来说是难以想象的。
Poor Daphne. She's sacrificed a lot here. Not only did she wake up early this morning (which hardly happens where she studies in Taiwan), she has also woken up every morning at 6am instead of staying in bed and sleeping.
在我们居住的玛莎拉什街区,聚集了7个教堂。在尼日利亚,在清晨起来向上帝祷告看上去是一种高尚的行为。而尼日利亚这种特有的与上帝对话的方式使我们相信耶稣在这片土地上有着多么巨大的威力。他能够让自己的臣民在朦胧清晨保持无比清醒的状态,充满活力。他们喊着,唱着,使出吃奶的劲,用最大的声音向上帝诉说他们的祈祷。
Why? Because the place where we live is called Moshalashi, it's surrounded by seven churches. It seems that speaking to the Lord at early dawn is ideal in Nigeria. The peoples' presence at the churches at early dawn indicates belief in Jesus is strong here. His influence is so powerful that He makes each one of his children energetically and vigorously march to the churches at dawn. There they shout, scream, sing and pray in their loudest voices.
不得不承认,在我有限的知识和经历范畴里,尼日利亚是非常神奇的。我不止一次拜访当地的教堂,感受教堂中一场又一场音乐狂欢。他们其实是在做礼拜:先从合唱开场,接着群舞、高歌,最后在大声祷告中落下帷幕。几个歌手站在教堂的高台上,他们的"粉丝"们在台下载歌载舞。之后,会有牧师做一段演说,这便是常说的布道。牧师激昂的声音,让我觉得这更像是一个电视促销广告。
I have to say that Nigeria is so different. I have been to the local churches several times and what I see is almost like "a big concert" beginning with singing and ending with dancing and praying . There are "singers" on the stage and their "fans" will follow everything they sing or do. After that, a speech will be delivered, which we call preaching, don't we? But the Pastor is so powerfully eloquent that it sounds more like a promotion for a product on TV.
想想也是,他在为上帝做宣传,推销基督教与其所倡导的生活方式。这个国家,人们大部分时间是在祷告中度过的。我原本以为穆斯林是每天祷告最多的人(每天五次)。当我看到尼日利亚的基督教兄弟们唱圣歌从下午一直到深夜时,我仿佛听到上帝在对我说:"很不幸,你错了。"
And why not? After all, he is promoting God and the right way of life for a Christian. People here spend so much time praying. I studied Arabic literature in China so I used to believe that Muslims were the ones who prayed the most. Alas, when I looked at our Christian brethren in Nigeria, I saw people who sang from afternoon to night.
尼日利亚的奇异的嘴脸其实在我刚踏出穆尔塔拉穆罕默德国际机场(拉个素国际机场)时就在我面前展露无遗了。我周围的人用一种猿人的招呼方式(撅着嘴用嘴唇用力吸气发出"吱吱"的声音)向我"问好"。在中国我从未听到过或者体验过这种声音。后来,在我的旅途中,我的司机菲力克斯告诉我这些人其实是想和我交朋友,引起我的注意。现在我也精于发出这种富有磁性的"吱吱"声。在人海茫茫的拉格斯大街上,用这种声音拦下各种交通工具有着奇特的效果。
The difference between Nigeria and my home shocked me when I first arrived at the Murtala Mohammed Airport. The people around me made a lip synching noise I had never heard in my country. Later during my trip to other states of Nigeria, my driver, Felix, told me that they just wanted to be my friend. Now I am used to that kind of sound, and can even make the hissing noise myself. I've found it works very well when trying to get people's attention.
有时候,我们实习生会去拉格斯大学,因为我们是通过拉格斯大学埃塞克项目来到尼日利亚的。在大学里,我们和朋友见面然后一起去拉格斯的学校教课。通常,我会用神奇的"吱吱"声引来一辆三轮车,然后奋力杀价,直到价格低于搭乘摩的的价格,然后我们三个人就挤在一辆车里颠簸着驶往拉格斯大学。
Sometimes, we interns can go to the University of Lagos (Unilag), because we came to Nigeria with an AIESEC exchange program. We go there to see our friends and do volunteer work at schools in the area. The common routine involves calling a motorcycle (that looks more like a tricycle) by making the lip hissing noise, and then bargaining down for whatever price the okada (the name for motorcycles in Nigeria) rider tells me. I stop bargaining when he agrees to carry me from Moshalashi to Unilag for less than three hundred Nigerian naira.
在拉格斯大学,我们实习生一般要等两小时以上才能知道之后要去哪里和我们接下去的工作是什么。我们已经习惯了,正如我们的尼日利亚朋友所说的:因为这是非洲,这里没有时间,没有规则。这也使我爱上了学校食堂里的薯条。有些实习生甚至从10公里外另一个岛赶来这里吃薯条,当然还有沙拉,但只有女生爱吃沙拉。
There in Unilag, the rest of the interns and myself have to wait at least 2 hours, although we could have been late for two or more hours. We interns are used to that already, because our friends in AIESEC told us ---this is Africa, so they work with African time, and there is no time-discipline. Yet I am willing to make the long trip because it makes it possible for us to enjoy the food at the Students' cafeteria. I love the chips there. Some interns will come all the way from the Dolphin estate just to enjoy the chips, and of course the salad, which is mostly favored by the girls.
我也喜欢这里的牛肉,虽然牛肉很难咀嚼。我想,我回国之后肯定会想念这个国家所有我吃过的食物的。比如阿马拉饭,埃巴面团和那些黏黏的食物。但是我的最爱还是神奇的"苏雅"(一种当地的烤牛肉)。所有实习生都对这种食物着迷。我甚至听说一些西方游客以素食者的身份遭遇了这种食物无情的"洗礼",以肉食主义者的身份回到了他们的祖国。我也会想这里的酒,比如当地的啤酒和那些充气的果酒(虽然这对于尼日利亚人来说是女士饮品)。
I prefer the beef though it is very hard to chew. I think that when I return home, I will miss the food here, all of it, especially Amala, EbaJollof rice. But most of all, the three of us will Suya (roasted beef with chili pepper) so much. We are addicted. I heard that this miraculous thing called 'Suya' has made a lot vegetarians become carnivores when they return to their country. I also enjoy the alcoholic brands here like Star, Stout and Smirnoff ice (though it is a lady's drink in Nigeria).
总的来说,尼日利亚人是友善的。人们会帮助素不相识的陌生人,而这里的孩子把我叫作oyibo(约鲁巴语中"白人"的意思),他们也一路欢声笑语将我送回家。但是,这里的晚上任然潜伏者危险。要知道,警察在夜里也会向你要钱。到现在我还不明白,为什么一入夜,所要消费的人数就骤然猛增了。
Nigerian people are very friendly. Many strangers will help us when we are in trouble, and children here call us "oyibo" (means 'white-skinned' in Yoruba language) and will accompany us all the way to our door. But the night time here often means something unsure for us. You know, even police will ask you for money in the dark. I still can't understand why some people here are so eager to ask for tips at night.
So, from morning to night, this is how I spend a day in interesting and exciting Lagos, my home in this country.