赴美日记:简单即美 A diary of America: simplicity is beauty----杜艳萍
Language:中文 pin yin English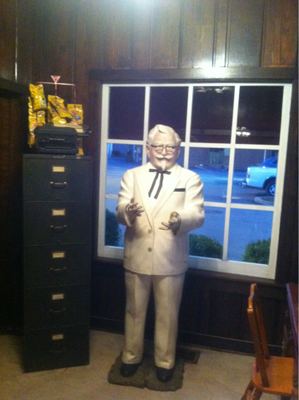 虽然天上飘着雨,虽然昨晚几乎没睡,但还是参观了整个州立大学的校园,逛了奥特莱斯和沃尔玛超市,去了同事的温馨小屋做客,去亚洲餐馆吃铁板烧。行程满满当当,收获自然也很丰硕,只恨自己的眼睛不够用。
In spite of the rain and lack of sleep, I still went to visit the state university campus, a few shopping Outlets and Wal-mart. Later I paid my colleague a visit at her house and ate teppanyaki at a Japanese restaurant. The whole journey was full and self-enriching, I only regret that I was not able to see everything.
在美国生活,应该尽量适应美国人的风格。而我看到的美国风格,首先就是简单又舒适,两者奇妙融合。比如美国的建筑,从外表看都毫不起眼,但走进去,你就会察觉处处都是细节到位、品质至上。家具造型没有繁复的雕琢,而是明快的线条,原木的本色,既方便打扫,又耐看实用,总之满足你的正常需求是绰绰有余的,除此之外就一概去除。大街上大多数的房子都是按照主人的意愿进行设计建造的,奇怪的是整体风格相当统一,原因就在于大家的审美标准高度统一。
To live in America, you must first adjust to the style of Americans. What I see in the American style is a type of simplicity and ease which are combined marvelously. For example, the building may be are simple at first glance, but when you walk inside, the interior is full of fine details and high-quality items. The molding of the furniture is not complicated, but the lines are lively. The distinctive raw wood is not only easy to clean, but also very attractive and practical. In short, they are every standard of use and design. No items beyond this criteria are accepted. Most houses on the street are built and designed in accordance with the hosts' wishes. The style of the whole building is quite unified, because people's aesthetic standards are similarly unified.
庞大的超市里,商品的种类并不多,但全是美国人日常生活所需要的(这里的美国人是指已经完全美国化的,自然不包括我这类人)。而每一种类却又有着丰富到让人眼花缭乱的品种。巧克力、薯片、面包、蛋糕、黄油……任意一种就摆满长长的一条货架。在挑选水果时,光是确定吃什么就让我非常犯难,每种都打理得这么漂亮,自由的选择有时竟然成了我们的负担。
There are not many kinds of commodities in the huge supermarkets, besides those which Americans need in daily life (by Americans, I mean people of Anglo-Saxon ancestry). Each kind however has abundant and dazzling varieties. Each type of item is placed on long shelves, such as chocolate, chips, bread, cakes and butter….. In picking fruits, I find it difficult to decide which one to eat. Each is organized so beautifully. Sometimes free choice becomes its own burden.
超市里的每样食品都已经过卫生处理,你无需再清洗,最多就是将它们放入微波炉或烤箱里加热就行。实际上,加热也是多余的,对于真正的美国人而言,蔬菜生吃,冷水直饮,除了咖啡需要煮沸,热水壶是无用武之地的。做饭其实真的很方便,无需任何技术含量,几乎不用花费多少时间,一日三餐就轻松解决了。相形之下,中国人对于吃的广泛重视程度让美国人不可理解。同理,我们对于标准的美国式饮食也很难接受。
You do not need to clean the food very well because it's already been processed. You just need to put the items in the microwave oven or traditional oven to warm them up. In fact, cooking the items is not required. Americans like to eat raw vegetables and drink ice water. The kettle is used only in boiling coffee. It's really very easy to make. It doesn't need any special techniques or extra-time, and is easy to make three meals a day. In comparison, Americans cannot understand the attention paid to eating by the Chinese. Vice versa, we Chinese cannot accept American food.
至于衣服,一无所获。美国风格在这方面的强烈体现让我有些气馁。绝大多数的衣服是运动系列,剩下的就是为数不多的休闲系列,真的是乏善可陈。
I terms of clothes, I've bought nothing. I feel frustrated with the strong American style. Most clothes are sports styles and the rest are casual clothes. It's really difficult to accept.