热闹的埃及婚礼

Bustling Egyptian wedding
Language:中文 pin yin English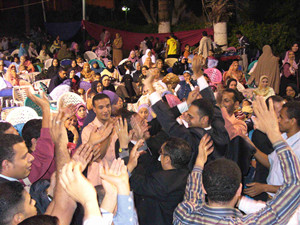 埃及人非常重视婚姻,认为结婚是人生中最重要的事情之一,是精神和身体的归宿,是天人合一的结果。结婚是一项宗教义务,是敬神的表现,同时也是对家庭必须尽到的责任。
Egyptians pay much attention to marriage, viewing it as one of the most important things in life. It is the permanent home of spirit and body and the fusing of man and Allah. Marriage is a religious duty, a way to demonstrate respect for Allah, and a responsibility to one's family.
在埃及生活了四年,经常被埃及朋友邀请去参加一些埃及的婚礼,前前后后算起来也不下10次。埃及人的婚礼颇具自己的特色,下面就谈谈我参加过的埃及婚礼。
I lived in Egypt for four years and often was invited by Egyptian friends at least ten times to join them at their weddings. The wedding ceremonies were full of unique characteristics. I will talk about the Egyptian wedding ceremonies I have attended.
正式举行婚礼前几天,在当地清真寺阿匐的主持下,新郎、新娘当着亲朋好友的面签署婚约,领取结婚证。到了举行婚礼那一天,大家去往酒店或俱乐部。我们参加的婚礼大都在俱乐部里举行。晚上八、九点多到达,刚进门,震耳欲聋的音乐声让人精神一振,然后看见新郎、新娘端坐在一个比较高的台上。他们摆着各种各样的姿势,大家就拼命地照相,好像是在开记者招待会。拍完照之后,最激动人心的时刻就要到了。在所有亲朋好友的注视下,新郎拿出准备好的首饰并把它们带到了新娘的脖子和胳膊上。那一刻,你能感觉到,新娘被幸福包围着。
A few days before the official wedding ceremony, the local mosque's imam directed the bride and groom to sign a marriage contract in front of relatives and friends, and then the couple received the marriage certificate. On the day of the wedding, everyone went to the hotel or club. The wedding ceremonies we attended were almost all held in clubs. We arrived at eight or nine in the evening. As soon as we went in, the loud music invigorated us. The bride and groom were seated on a high platform. They posed in all different ways as people hustled to get pictures. It felt like a press conference. After the picture taking finished, the most exciting part was about to arrive. As all their relatives and friends watched, the groom took necklaces and bracelets and placed them on the bride's neck and wrists. At that moment, you could feel how the bride was surrounded by happiness.
送完首饰后,大家就开始跳舞,先是新郎和新娘跳,接着新郎独舞,所有的男人都围着他打着拍子,然后女人们围着新娘跳舞,一直就这样跳啊跳,所有的音乐都是摇滚风格的。埃及人说,这样的音乐能提起他们的兴致。最后,人们把新郎抛向空中,来表达无限的快乐。带着孩子的女人也把孩子举起来,随着音乐晃动着孩子。
After the jewelry giving, people began to dance. The bride and groom were the first to dance, then the groom danced solo. All the men surrounded him and clapped. Then all women surrounded the bride and danced. The music was rock'n roll. Egyptians say that only that type of music can spark their interest. In the end, people tossed the groom in the air to express their endless happiness. Women who took their children also carried them up and bounced them with the music.
我们一般11点左右就会离开,因为11点对于我们中国人已经很晚了。但是,对于埃及人来说,真正的夜晚才刚刚开始。听朋友说,婚礼上的狂欢经常是通宵达旦的,歌手们弹起具有民族特色的乐器,边唱边跳,欢庆一直持续到第二天凌晨。埃及人最擅长的就是歌舞。他们的生活不能没有音乐和舞蹈,即使在遥远的沙漠中。
Usually we would leave around eleven o'clock, because it was late for us Chinese. But for Egyptians, the real evening had just begun. Some of my friends said that the wedding celebration would last almost through the entire night. Musicians played folk instruments while singing and dancing, lasting until early morning. The thing Egyptians excel at most is singing and dancing. They cannot live without music and dance, even in the distant desert.