空中监狱 Jail in the Air——张叶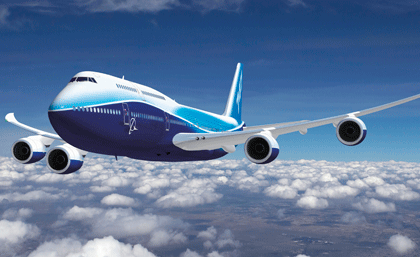 三十年代的时候去趟欧洲得在海上漂个把月,想想那不过也就是七十多年前的事情。如今,到欧洲最远的地方也就十几个小时的飞机,真可谓是:朝辞北京彩云间,万里欧美一日还。
In 1930s, when people went Europe, they needed to travel for about 1 month on ocean. Actually it was only 70 years ago. Now, it takes only more than 10 hours even to the farthest place in Europe. It can be the reality: If you leave Beijing in the morning, you can go to Europe and America and come back within one day.
曾经对在国际间飞来飞去的生活心驰神往,没办法,这种生活的表面太风光。几经努力终于混进了国际飞行族的队伍,然而几个往返下来发现:一点都不好玩。那感觉比大餐吃多了想吃家常菜还惨,毕竟大餐中总有一个菜会适合你,而一旦你上了洲际飞行的"贼飞机",剩下的可全是悔恨的眼泪。
Once I was so longing for the life in which people can fly from one country to another. This kind of life looks too attractive in appearance. After making great efforts, I finally became a member of the jet society. After several journeys, I realized it was not as funny at all. The feeling is much worse than when you eat sumptuous dinners everyday and long for homemade meals. After all, there are must be at least one dish in a sumptuous dinner you like. But once you are on board on a continental flight, all you have are regretful tears.
国内航班的飞行时间都太短,还没等你明白是怎么回事你就已经到了;只有飞一回国际长途你才恍然大悟:我们全让航空公司给糊弄了。花了几千块人民币买到的实际上就是个包装精美的硬座,而且还是特不人道的那种:旁边没人想躺一下?中间有扶手;几个人一起打个扑克?背靠背的设计让你无法对垒;起来放放风?徘徊在厕所之间的小过道还得不停地说抱歉。
Domestic flights are normally short. Before you realize what is happening, you already arrive. Once taking an international flight, we all fooled by airline companies. The payment of several thousand RMB only is for a well decorated hard seat. Besides, the seat is really inhumane. Can you lie down for a rest when nobody seats besides you? No way. There are armrests. Can you play poker with friends? The back to back seating design makes it impossible for a poker game. Can you get up and have a walk? In order to walk in the narrow corridor between toilets, you need to keep on saying sorry.
终于顿悟:自己花钱进了个无处可逃的监狱,我的座位就是单人牢房,安全带就是"腰铐",至于空中小姐们当然就是些美丽的看守了。
Suddenly I see: I pay to stay in an inescapable jail. My seat is a single cell. The safety belt is a waist cuff. As to air hostesses, they are beautiful jail guards.
怪不得这儿吃饭不要钱,你见过哪个监狱吃饭要钱的。航空公司这么做自有道理:让你没机会不满意。施舍给你的东西你敢抱怨么,尽管是你自己出的羊毛;所以,吃的、喝的、音乐、电影还有笑容,不管多滥,全部免费。都免费了你还不满意,你什么素质自己反省去。
It is no wonder that it is free to have meals here. Does one single jail you see charge money for meals? Airline companies have their own reasons to do so: you have no chance to complain. Can you complain when they offer your meals, although you pay the flight? Therefore, meals, drinks, music, movies and smile, no matter how poorly made, are all free. If you still complain about free meals, what kind of person you are?
最让我受不了的是:每坐一次飞机就被强制戒烟一回。这种莫名其妙的戒烟对身心极为有害,就像一个从来不锻炼的人某天突然早起跑了个马拉松。现在你明白洲际飞行的真相了吧,想象一下:一个瘾君子被关进了单人牢房。
The most unbearable thing is that I have to quit smoking every time when I am on flight. This unintelligible smoking cessation is very harmful for mind and body as well. It is like a man who never takes exercise one day gets up early and run marathon. Now you know the truth of continental flights. Just imagine: an addict is put into a single cell.
想在十几个小时里面横跨洲际,这就是国际飞行族的原罪。背负着这个罪,我不得不一次又一次地把自己投进空中监狱。
The original sin of the international jet society is to go cross continents within less than 20 hours. With this sin, I have to throw myself into air jail once and again.
不知道未来的人们怎样旅行,但我能想象他们会怎么看我们今天的洲际飞行:几百个人被塞进一个有翅膀的大铁管子里面,然后慢慢腾腾地进行着时空穿梭。
I don't know how people will travel in the future. But I can imagine how they will think about our continental flights today: Hundreds of people are put into an iron cube with wings and slowly fly from one place to another.