一件难忘的事 A Thing I Cannot Forget
Language:中文 pin yin English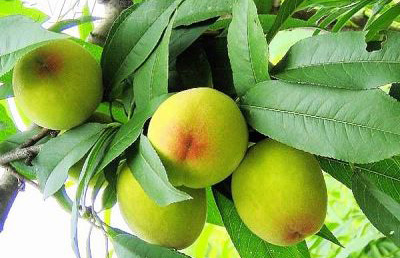 从小到大,我认识了许多人,遇到了许多事。有令人惊喜的,有意想不到的,有叫人悲伤的,有令人失落的,多姿多彩。对于一个城市长大的孩子,有件事却让我记忆犹新。
Growing up, I met a lot of people and came across many different things. . Some things surprised me, some were unexpected and the others disappointed me, or made me sad. But as a child growing up in a city, there is one thing that remains fresh in my mind.
那是个周末的早晨,妈妈说要带我去一个很特别的地方。一路上我动足了脑筋,猜测到底那是怎样一个神秘的地方。不多时,我们到了,原来是一个很大的果园,满是桃树,这就是有名的蟠桃园了。蟠桃有着"仙桃"的俗称。神话中西王母在瑶池设的品尝仙桃的宴会,就是蟠桃。据说蟠桃形美、色艳、味佳、肉细、皮韧易剥、汁多甘厚、味浓香溢,我不禁想马上去品尝一下。
It was weekend morning. Mother had told me she would take me to a special place. The whole way there, I was trying to guess which place it was. After a short while, we arrived. It was a large orchard, full of peach trees. The orchard is well-known for its flat peaches, known in folklore as the "peaches of immortality". According to legend, the heavenly Queen Mother held a banquet in Jasper Lake to sample flat peaches. It was said that the flat peaches were beautiful in form, brightly colored, and had delicious flavor. They were ripe and robust yet easy to peel, and juicy. I could not help but want to taste them immediately.
来到蟠桃园,各色的蟠桃令我目不暇接。蟠桃形状不同于其他品种的桃儿,它扁扁的,好似月饼,顶部有一片红晕,味甜汁多,不愧有"仙桃"之称。大大小小的蟠桃长在许多高高低低的树上,头上的蓝天全被树叶覆盖了。在树荫下,我看着蟠桃,更想尝试一下采摘蟠桃。能够亲自采摘到有名的仙桃,这是多么令人兴奋的事啊!我在果农叔叔的帮助之下,小心翼翼地踩着梯子,一步一步爬到最高处。近距离接触了蟠桃。蟠桃小小的,形状像一朵花,娇艳欲滴,正在向大家展示自己的艳丽。我轻轻地把蟠桃摘了下来。那桃儿软软的,轻轻的,惹得我垂涎欲滴。据管理员说蟠桃肉质细腻,甘甜可口,味道鲜美,果实中富含多种营养成份它的含铁量比较高,还能防治贫血。我尝了一口,果然名副其实。蟠桃软软的,甜甜的,融化我的心田。果然是仙桃,味道就是不同于其他桃子,而且营养那么足。
When I reached the orchard, there were too many peaches for my eyes to take in. Flat peaches are different from other kinds of peaches. They are flat like moon cakes, with a reddish color on top. With sweet and juicy flesh, they are well deserving of the name "peaches of immorality". There were so many peaches on the trees. The blue sky above was covered by leaves of the peach trees. In the shade of the trees, looking up at the peaches, I wanted even more to try and pick one. How exciting to pick the famous "peaches of immortality" for myself! With the help of fruit farmer, I stepped onto the ladder and carefully climbed to the top. I could now see the peaches up-close. They were small and delicate, like beautiful flowers. I picked them gently. They were soft and light; my mouth started watering. The farmer told me that flat peaches were sweet, delicious and nutritious. They are full of nutrients; high in iron, which helps to prevent and treat anemia. With just one taste, it melted in my mouth down into my heart; then I knew they truly were "peaches of immortality".
我品尝了蟠桃的美味,领略了仙桃的神奇,还享受了城市里没有的新鲜和泥土的芳香,跟大自然来了个亲密接触,真是让人难忘啊!
I tasted for myself the magic of the "peaches of immortality". The delicacy of its flavor, its fresh and earthy aroma, cannot be found in the city. It was really an unforgettable intimate encounter with nature.