义卖 A Charity Sale——李江南
Language:中文 pin yin English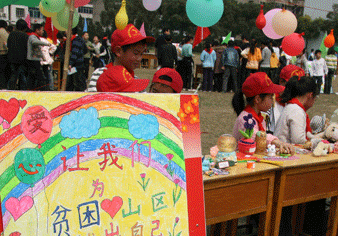 上周六,我参加了"小脚丫"组织的一个活动,叫"为玉树灾区人民义卖"。"小脚丫"的姐姐们带来了一些手机套,让我们卖给紫竹院公园里的游客,然后把钱捐给灾区。
Last Saturday, I joined an activity organized by the "Little Feet" organization, which was called "Charity Sale for People in Yushu". Some working staff from the organization gave us some cell phone covers, and asked us to sell them to the visitors in Zizhuyuan Park so we could donate the money to the people in Yushu, the earthquake- stricken area.
我一拿到手机套就往公园里面跑。公园里有很多人,可是我推销了很多次都没有卖出去一个。我这才发现卖东西并不是这么简单,虽然每次都介绍我们这个活动的意义,可人们总是找得到各种理由不买,有的说不好看,有的说不需要,有的说没零钱…… 后来我认识到,要推销成功就要找到合适的人。一般我都是找中老年人,因为他们的脾气温和,更喜欢小孩儿;还有在公园里谈恋爱的人,因为他们有时间可以耐心地听我说。那些急匆匆走路的人不能找,他们肯定是着急有事,没时间听我推销。
As soon as I got the cell phones covers, I ran into the park. There were a lot of people in the park. But I didn\'t sell a single one after a long time. I realized it was not so easy to sell. Although every time I would explain the meaning of the charity sale, people would always have excuses to refuse. Some said the covers were not so good looking. Some said that they did not need one. Some said that they had no changes with them…. Then I realized I needed to find the right persons to sell. Generally, I would try middle-aged and old people, because they were quite gentle and loved children. I also went to those lovers in the park, because they had enough time to listen to me. You should not go to people who walked in a hurry, because they might have urgent matters to deal with and thus did not have time to stop and listen.
按照这些方法,我很快就卖出去了好几个。有一次,我在石桥上碰到一个小哥哥。我向他爸爸推销,他说:"你跟我儿子说吧,他会买的。"小哥哥拿起手机套看了看,对爸爸说:"快,快,钱!"他是我顾客中唯一的一个小孩儿,我觉得很有趣。
In this way, I soon sold a few. Once I ran into a little boy on a stone bridge, I tried to sell a cover to his father. His father said, "Talk to my son. He will buy one." This little boy took a look at the cover and said to his father, "Hurry, hurry, money!" He was the only kid of all my customers. I found it interesting.
还有一次,我看到河边有一群人,刚开始我不敢过去,因为一下子面对那么多人,我有点害羞。后来在妈妈的鼓励下,我咬着牙走过去向一个姐姐推销,结果成功了。我想,以后再遇到这样的事情我就不会害羞了。
Once, I saw there were a group of people on the riverside. At first, I didn\'t dare to go to them. I felt pretty shy in front of so many people. With my mother\'s encouragement, I bit my lips and tried to sell the cell phone covers to a young girl there and I succeeded. I thought next time I would not feel so shy.
经过一个小时的"奋斗",我终于卖掉了全部的十个手机套,一共卖了二十一元钱,因为那个姐姐给了三元钱。我有点后悔自己每个手机套只卖两元钱,因为如果每个都多卖一点,就可以给灾区多捐一点了。
After one hour\'s effort, I finally sold all the cell phone covers for 21 yuan, because the girl in the last gave me three yuan. I kind of regretted that I only sold two yuan for each, because if I had sold at a higher price, I could donate more money for the earthquake-stricken area.
不过我还是很有成就感的,因为这是通过自己劳动挣来的钱,而且可以为玉树灾区捐款。我希望这些钱可以为玉树灾区的小朋友建学校,让他们能早日重返校园。
But I was still content with my achievement, because I was able to donate the money I earned to people in Yushu. I hope the money can help them to build schools, so children there can be back to school soon.
Zhengxl
Replied on: 11-06-10 10:41
真友爱
应该是真有爱心