胞衣之地

The place where I was born
Language:中文 pin yin English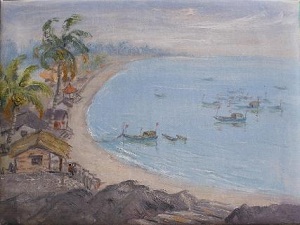 布袋,充满人情味的小村子,位于嘉义的海港边,人们以捕鱼维生,物质生活不太富裕,但每天却过着无忧无虑的日子,而唯一要担心的只有台风来袭,每逢台风天就会淹水,因此大家早就准备好秘密基地"楼中楼"来抵御。
Budai, a small village full of human kindness, is located at the harbor of Jiayi. People there make their living from fishing. Although they are not rich, they live carefree lives. The only worry is the arrival of a typhoon. On the day of a typhoon, it floods. Therefore, people long ago prepared themselves against it using a secret "double deck".
我们的村子并不是繁荣的商业城市,也没有什么名胜古迹,不过在这里,第一多的就是人情味和热情;第二多的则是乌鱼子,也就是俗称的"黑金",只要有远方亲友来访,一定会招待对方品尝美味的乌鱼子,再沏上一壶好茶。
Our village is not a prosperous business city, nor a place of great interest. But the thing it has most is human kindness and warmth. The second thing it has most is mullet roe, also called "black gold". Whenever relatives and friends come from far away to visit, people must treat them to delicious mullet roe and a cup of good tea.
早期村子里大多是木造的小房子,高级点的则是住在砖头和水泥砌成的房子。随着科技的进步,人们开始在港边建起堤防,当高楼逐渐增加,壮年人口一一离开这充满人情味的故乡,前往闹市讨生活,村子里的热闹景象也逐渐消失。
In earlier times, most houses were made of wood. Some high-ranking people's houses were made of bricks and cement. With the development of technology, people began to build dikes along the coast. With the increase in number of tall buildings, people in the prime of their lives leave this hometown full of kindness to make money in the downtown area. The lively scenes in the village have gradually disappeared.
图片来源:
http://image.baidu.com/i?ct=503316480&z=&tn=baiduimagedetail&word=海边渔村&ie=utf-8&in=16647&cl=2&lm=-1&st=-1&pn=3&rn=1&di=46606894450&ln=1995&fr=&&fmq=1369978663716_R&ic=0&s=&se=1&sme=0&tab=&width=&height=&face=0&is=&istype=2&ist=&jit=&objurl=http://img2.gouyishu.com/photo/product/427/897859094_473/201222113929.jpg#pn3&-1&di46606894450&objURLhttp://img2.gouyishu.com/photo/product/427/897859094_473/201222113929.jpg&fromURLippr_z2C$qAzdH3FAzdH3Fooo_z&e3B257ytfi7_z&e3Bv54AzdH3Fr6517vpAzdH3Fr6517vp_1jpwtsf_z&e3Bwfrx?rt1=9nn0&W427&H321&T9147&S20&TPjpg