Language:中文 pin yin English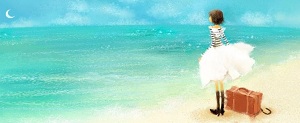 在外地做了一年过客,终究是要离开。火车的方向是曾经的家乡,却有一种淡淡的失落,在心中蔓延成愁绪。
I spent a year as a passerby in another place and had to leave in the end. The train was heading to my hometown at one time, but I am at a bit of a loss and a gloomy feeling spreads in my heart.
发车铃响了,火车门整齐划一地合上。这里是地底下的火车,是原本过来的地方。火车驶向名为家的地方,但自己却对那个称为家的地方一无所知。一切都变了,自己心里清楚,看起来像家乡的地方,已经不是那个家乡了。
When the bell rings, the train doors close in an orderly manner. This is an underground train whose destination is the place I came from. The train steers towards the place called home, but I know nothing about it. Everything has changed and I am very clear that the place that seems like my hometown is no longer the same place.
I think this may be homesickness.
一年前离开家里来到这个地方的时候,也有类似的感觉,但是由于当时家中的冲突,反倒使乡愁冲淡了许多。现在,离开这个待了一年的驿站,返回自己的家,不应该有的乡愁,却愈发清晰了起来。
I had a similar feeling when I left my hometown and came to this place. But at that time, the conflicts at home diluted my nostalgia. Now, I have left this place where I stayed for one year and am returning to my hometown. This nostalgia which I should not feel is becoming clearer.
有人说,离开家是为了追寻一个梦想,不断地向远方旅行,追寻着无法掌握的梦,直到最后,回到了家,却再也回不到家乡了。
Some people say that to leave home is to seek a dream and continuously travel far away to seek a dream you cannot get hold of. At the end, even when you return home, you are not back at your hometown any more.
图片来源:
http://www.zwbk.org/pictureshow.aspx?pid=20101124112534354_8712.jpg&title=%u4e61%u6101&lid=88571