Language:中文 pin yin English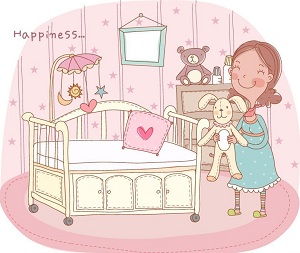 女儿发烧了。半夜里,我蹑手蹑脚的到厨房拿退烧药回房间喂女儿吃药,深怕把熟睡的公婆吵醒,老公在一旁盯着我看,我说:"怎么了?不睡觉看我做什么?"他悠悠地说了一句,让我不知该如何接话,"小女孩已经变成这么会照顾家人的女人了。"是啊!曾几何时,我已经从骄纵的小女孩变成管家婆了!
My daughter had a fever. At night, I tiptoed through the kitchen to get the pills to give to my daughter, in turn trying not to wake my parents-in-law who were sleeping sound. My husband stared at me. I asked, "What's the matter? Why are you staring at me and not sleeping?" Then he said something that I did not know how to respond to, "You have changed from the girl I once knew to the woman who now takes care of this family." Yes! I have changed from an arrogant young girl into a housekeeper!
女孩变成女人,其实是一个慢慢演变的过程。从获知自己即将在九个月又十天之后成为母亲的那一刻开始,一直到儿女长大成人,这样的演变不会结束。这真的是一段很奇妙的历程,小宝贝还在肚子里时,感受到宝宝在体内的生命力,时而跟他说说话,时而摸摸被小脚掌踹出的肚皮,生活不再是单纯的两个人。小女孩这时要照顾的,除了每天一起床就看到的枕边人外,又多了肚子里那个看不到的小家伙。女孩不再是那个凡事都要依赖父母的小孩,隐藏在女孩外表下的母爱,也慢慢的呈现出来。
In all actuality, it is a slow process to change from a girl into a woman. This is not a process that begins after nine months and ten days, or that I will be considered a mother until my child grows up. It is truly an amazing journey. When the little baby was in my belly, I felt her vitality in my body. I sometimes talked to her, sometimes touched my belly and she would kick with the sole of her feet. My life is no longer simply my own. The person this once young girl needs to take care of is not only the one sleeping on her own pillow, but also the little one unseen in her belly. That girl is no longer the little kid that needs to rely on her parents, and a motherly love inside her own body has gradually emerged.
图片来源:
http://www.tooopen.com/html/download/2010628/201006282306028390.html