Language:中文 pin yin English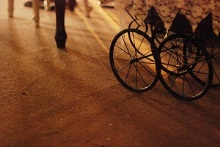 "Click," mother quietly closed the door.
小小的屋子,变成一片黑暗。但是高高的屋顶上,有一片厚玻璃。天气很好,厚玻璃像天井一样,泄出一大束的光晕,好像从云间透出的神光。
The small room turned dark. On the top roof, however, the material is made of a thick glass. In good weather, it is like an open yard, spilling out in every direction, like a divine light interpreting the clouds.
我坐在屋里小小的四方桌。往前看去,另一个小门槛外的,是有水龙头的水泥地。两个大缸装满了水,还有周围几个装了水的塑料脸盆。母亲在这里洗衣服、洗菜,还有洗孩子。
I sat around a small square table in the house looking forward. There is a cement court with a water faucet outside the small threshold. There are two large vats and a number of plastic basins full of water. Mother is washing clothes here, washing vegetables, and bathing the children.
夏日的阳光很烈,我在黯黑的泥砖屋里,却觉得阴凉。猛烈的阳光,穿过了屋顶的厚玻璃,变得温柔而美丽,仿佛金色的薄纱自天边垂落。我总是痴痴的看着它,像从昏暗云层里投射出的一道光——一位天神的出现。我感觉得到那温柔的脸俯身而下,在光里对着我微笑。
The sunlight in the summer is strong but I feel cold in this dark brick room. The strong sunlight penetrates the thick glass of the roof in a soft and beautiful way. It seems like a golden chiffon curtaining from the sky. I foolishly gazed at this and believed I was looking at the appearance of a god, a light projecting through the dark clouds. I felt god's tender face looking down and smiling at me through the light.
This glimmer is the permanent golden stigma in my heart.
http://image.baidu.com/i?ct=503316480&z=&tn=baiduimagedetail&ipn=d&word=透过阳光&ie=utf-8&in=10728&cl=2&lm=-1&st=-1&pn=144&rn=1&di=269030222800&ln=1992&fr=&&fmq=1374631861661_R&ic=0&s=&se=1&sme=0&tab=&width=&height=&face=0&is=&istype=2&ist=&jit=&objurl=http://image.zcool.com.cn/41/9/m_1291301744185.jpg#pn144&-1&di269030222800&objURLhttp://image.zcool.com.cn/41/9/m_1291301744185.jpg&fromURLippr_z2C$qAzdH3FAzdH3F2657r_z&e3Bzv55s_z&e3Bv54_z&e3BvgAzdH3Fo56hAzdH3Fzg1vdgpwo_z&e3Bip4s&W600&H402&T7387&S298&TPjpg