老萨克斯风的回忆

The memory of old saxophone
Language:中文 pin yin English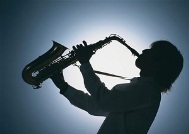 犹记昔日离家到台北念大学的那天,我坐在火车上听着随身听,凝望着窗外逐渐褪去的景色发呆。忽地从耳机所传出的音乐中听到一个既熟悉又怀念的乐音,挑起原已尘封于脑海深处的记忆。
I still remembered the day I left home to move to Taipei to attend university. I sat on the train and listened to my walkman and was in a daze amongst the scenery outside the window. Suddenly I heard of the sound of music through my earphones that evoked many memories that I missed. The memories lost in the depth of my mind were stirred up.
小时候,常见到父亲抱着那把萨克斯风,缓缓擦拭表面,当时只感觉它好庞大,与我的身高相去不远,璀璨的金黄色外表,每每刺得我睁不开眼睛。由于家境不佳,父亲几乎天天晚上都得带着萨克斯风到餐厅或类似工地秀的地方,与其他乐师一起演奏歌曲,赚取些许额外的收入,以弥补白天微薄薪资的不足。爱凑热闹的我,总是喜欢跟着父亲去秀场,坐在父亲身边,看着热闹的表演,享受父亲的乐声。
In my childhood time, I often saw my father hold his saxophone, gradually wiping its surface. At that time, it seemed large, almost the same height as me. Its bright golden appearance made it that I couldn't even open my eyes to look at it. As my family situation was not good, father almost every evening took his saxophone to the restaurant or a similar place to play with other musicians in order to earn extra money because his daily salary was not too high. I liked to join in the fun always and go with father, sitting with him, watching the lively performance, and enjoying his musical chops.
父亲从来不说甜言蜜语,仅以萨克斯风所谱出的最真挚的爱,来转动我们的生命,陪我们度过每一天。我也期许自己能将未来的成就谱成最动人的乐章,献给父亲,并告诉他:"爸,我爱你!"
Father never said sweet words, but accompanied us and spent time with us while using his saxophone to compose music. I expect to compose the most touching chapter with my future achievements and dedicate it to father and tell him, "Dad, I love you!"
摘选
图片来源:http://www.tutu001.com/jpg/sc_sports/jpg_6862.html