Language:中文 pin yin English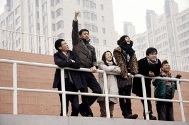 "北漂"特指那些非北京的外地人,他们没有北京户口,没有自己的房子,在北京工作和生活。北漂的学历从小学到硕士甚至博士都有,他们有的已经有了工作,有的还在寻找工作的机会,这些人大多很年轻,怀揣着梦想在中国的首都打拼。
"Bei Piao" refers to people living in Beijing who are not original Beijingers. They do not have their addresses permanently registered in Beijing, nor do they own their own houses, but they work and live in Beijing. Their education background varies from primary school to Master's graduates, and even PhD graduates. Some of them come to Beijing having already found a job, while others come searching for work opportunities. Most of these people are young and dream of working in the Chinese capital.
由于这些人在北京没有根基,开始北漂的时候,他们的生活往往很艰苦,几个人合租一间便宜的房子,吃最便宜或者简单的饭菜,每天早出晚归地工作,没有什么休闲和娱乐的方式。因为怀揣希望,这些辛苦在北漂族看来,都可以忽略。
As these people do not have a permanent foundation in Beijing, their lives are usually very hard upon arriving in Beijing. Many times a few people will rent a cheap house together and eat the cheapest or simplest of food. They leave home early and get back late in the evening, no time for relaxation or recreation. It is only by putting faith in their hope for a better future that these difficulties can be ignored.
其实,很多北漂如果在老家工作和生活,会非常安逸,只是他们觉得北京有更多就业和走向成功的机会,所以舍弃了悠闲的生活,去北京打拼。这种思想,自古有之,中国古代许多读书人十年寒窗苦读,进京赶考以求得做官,因为在他们眼中,努力之后可以换来梦寐以求的"衣锦还乡"的荣耀。现代的北漂,是古代读书人的延伸。
In fact, many times if they stayed in their hometown they would have an easy and comfortable life. Instead, they think they will have more opportunities to work and become successful in Beijing. Therefore, they abandon their relaxing life and venture off to find work in Beijing. This type of thought process, since ancient times, has been preserved by many in their studies, and in spite of the difficulties associated with ten years of studying and hard work still come to Beijing to take the imperial examination and try to secure an official position. In their mind, they believe that they can return home after gaining fame or money after studying hard. The Bei Piao in modern times is the extension of their ancient brethren.
通过奋斗,有很多成功的北漂,他们如今已经实现了自己的愿望。在北京,还有更多默默无闻的北漂,在一点一滴地实现着自己的梦想。
Through hard work, many successful Bei Piao young people have realized their dreams. In Beijing, there are more obscure Bei Piao who are still trying to realize their dreams step by step.
图片来源:http://fashion.enorth.com.cn/system/2012/01/10/008468939.shtml