孝敬老人被写进法律

Treat the old with filial respect has been stipulated into legislation
Language:中文 pin yin English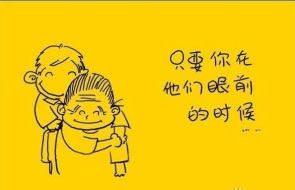 2013年7月1日,新修订的《老年人权益保障法》开始实施。该法规定,成年子女应当经常看望或者问候他们的父母,否则就会面临被起诉的危险。同时,社会也将会给老年人如交通设施、博物馆、体育馆等各方面的费用优惠,并要求医疗机构优先为老人服务等。
On July 1, 2013, the newly stipulated Laws of the People's Republic of China on the Protection of the Rights and Interests of Elderly People went into effect. It stipulates that grown-up children should often visit or extend greetings to their parents, and if they don't they could very well be sued by their parents. In addition, society should also provide favorable services to elderly people, such as public transportation, museum and gymnasium admissions, etc., and medical institutions should provide services to elderly people in need.
尊敬老人是中华民族的传统美德,古代有个"百善孝为先"的说法,是说对父母孝顺是一个人至善至美的表现,中国古代很多君王都以孝治国,在民间,则强调儿女的行为不违背父母的意愿,父母健在的时候,儿女应该陪在身边,子女应该负责父母的衣食住行的费用。
To respect one's elders in Chinese culture is a traditional virtue. In ancient times, there was a saying that "of all the virtues, filial piety is most important," which is showing support, dedication, and supreme filial obedience to one's parents. Many emperors in ancient China ruled by the concept of filial piety. Among the people, emperors stressed that children should not disobey their parents' will. While one's parents are still alive, children should accompany them and take charge of the cost of parents' food and clothing.
近些年来,很多年轻人离开家乡去外地打拼,回家的时间减少了,有时因为工作忙,也忽略了对父母的关怀,因此影响了老人度过快乐的晚年。此次立法,是呼吁人们应该重视自家老人的感受,并且由此推及到社会上的老人。这个出发点是比较好的。社会对老人的各种福利操作起来比较简单,成年子女经常看望或者问候老年人的标准难以规定,一些年轻人并非不孝,只是工作太忙脱不开身。工作和孝敬老人之间的矛盾和协调,需要全社会一起去努力。
In recent years, many young people leave home to earn money and in turn have less time to spend at home with one's parents. Sometimes, due to being busy with work, they neglect to show loving care for their parents, thus affecting the happy twilight years of one's elderly parents in a negative manner. This legislation calls for people to pay attention to the feelings of their parents. It is a strong starting point. It is rather simple for society to provide benefits to the elderly, but it is unrealistic to regulate grown children having to go home to visit their parents. This is an unattainable standard, as some young people are not unfilial, but just too busy with work to spend as much time with their parents as they would like. Society as a whole needs to coordinate care for and showing respect to the eld
erly.
图片来源:http://www.tompda.com/c/article/9366-12/