Language:中文 pin yin English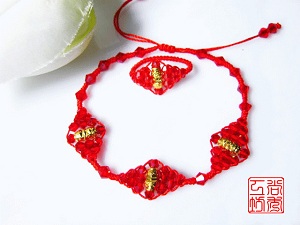 夏天的时候,很多年轻女性或者小女孩、小婴儿,都会带一种手链。手链通常是用红色的绳子,穿着各色小珠子。这可不是简单的饰品,这就是转运珠。
In summer, many young ladies, small girls, and babies will wear a type of bracelet usually consisting of red strings with different color beads. This is not a simple accessory, but one's lucky beads.
转运珠通常采用金色圆形或椭圆形的小珠子,珠子中间穿眼,再用红色的线绳穿起,珠子表面还可雕饰出一些花样。转运珠可以当成戒指或者手链,寓意吉祥、好运。
Lucky beads are usually golden and either round or oval small beads. A hole is put in the middle of the bead to allow the red strings to hold them in place, and the beads can be carved into some patterns as well. Lucky beads can be made into rings or bracelets with the implied meaning of prosperity and good luck.
通常,人们喜欢选择黄色的转运珠,配上红绳。金灿灿的颜色与喜庆的红绳搭配在一起,能给人一种喜庆、吉利的感觉。此外,每串转运珠的数目也是有讲究的,一颗珠代表"一帆风顺"、两颗珠代表"好事成双"等等,人们可以根据自己的愿望来选择。如今,随着转运珠的流行,也有人用玉石、水晶、檀木等各种材质代替贵重的金银,也是一种吉祥的寓意。
Usually, people prefer to choose lucky yellow beads with red strings. The yellow color matched with the happy red strings gives people an impression of happiness and prosperity. In addition, the number in each bunch of lucky beads is also of particular importance. One bead represents "wishing you every success" and two beads means "good things happen in pairs, "etc. People can choose beads based on their own wishes. Today, along with the popularity of lucky beads, some people use other types of materials to replace gold and silver, such as jade, crystal, and sandalwood, etc., all of which also hold the meaning of good luck.
图片来源:
http://image.baidu.com/i?ct=503316480&z=&tn=baiduimagedetail&word=转运珠&ie=utf-8&in=32089&cl=2&lm=-