相声新说法

A new word of cross talk
Language:中文 pin yin English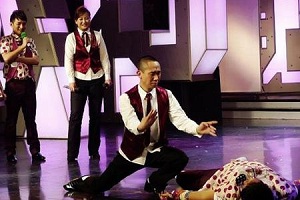 相声是有着百余年历史的民间艺术,利用说笑话或滑稽问答引起观众发笑。相声通过讽刺社会现象、赞美美好事物来反映生活。由于相声能够引人发笑,内容也浅显易懂,在没有电视、电影和互联网的时代,是广大老百姓非常喜欢的一种休闲娱乐方式,涌现了如侯宝林等一大批相声大师和一系列著名相声段子。后来,影视业和互联网的迅猛发展,相声渐渐淡出人们视线了。
Cross talk is a folk art with hundreds of years of history and results in audiences laughing at jokes or funny questions and answers. It satirizes social phenomena and complements the positive things reflected in life. Cross talk can make people laugh and it is clear and easy to understand. In the era without televisions, movies, and internet, it was a way of entertainment that common people liked very much, and resulted in a multitude of cross-talk masters, such as Hou Baolin, and a series of famous cross talks. Later, with the rapid development of the film and TV industry and internet, cross talks have gradually faded out.
近几年,一些新的相声演员出现在了人们的视线中,很多甚至是80后、90后的年轻人,还有一些著名的女相声演员。他们富有创新意识,不拘泥于老一辈相声大师规定的表演方式和内容选择,说相声时,不仅动嘴皮子,还添加了跳舞等肢体动作,并且选择时髦的网络词汇,紧跟时代和人们关注的焦点,吸引了不少年轻人。郭德纲的德云社便是一个例子,从天桥小剧场起家,到现在海内外都拥有分社,粉丝过万,成功地将传统艺术与现在社会结合到了一起,相声又有了新的生命。
In recent years, some new cross talk actors have begun to appear. Some are young people born in the 1980s or 1990s, and there are some famous female cross talk actresses. They are innovative, and not restricted to any form of acting or content as stipulated by the older generation of cross-talk masters. When performing cross talks, they not only talk, but also add some body actions, like dancing. They choose stylish internet terms, keeping up with times and the focus of people, thus attracting many young people. The Deyun Society set up by Guo Degang is an example of what started as a little theater in Tian Qiao. It has branch offices at home and abroad with thousands of fans. It successfully combines traditional art and modern society, and represents the new life of the cross talk format.
图片来源:
http://image.baidu.com/