农村迎来了大学生村官

University students wanting to become village officers
Language:中文 pin yin English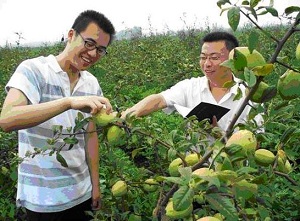 如今,越来越多的农村迎来了大学毕业生来当他们的村官。
In today's society more and more university graduates are settling in villages and becoming village officers.
20世纪90年代,中国的江苏省率先聘请大学毕业生到农村担任基层干部,开启了大学生村官计划,随后,其他省份纷纷效仿,2008年,中国全面启动大学生村官进程,目前中国约有20万大学生在农村基层工作。
In 1990s, Jiangsu Province was the first to invite college graduates to become village grassroots cadres and launched a project for graduate officers in the villages of the province. And after that, other provinces followed this example. In 2008, China fully launched the process for recruiting college officers for villages, and now there are about 200,000 college graduates working in villages.
让大学生到农村去,会不会屈才?国家对他们是有期望的。在中国农村,几千年的封建思想依然根深蒂固,宗法制、家长制和人情关系的观念,与民主、法制社会相背离,具有进步思想的大学生们可以逐渐转变这种风气,另外,科技的发展需要更多有文化、有技术的先进人才来带领中国农村的发展,而部分大学生到农村就业,也可以一定程度上缓解目前就业压力。
Is it waste of talent to let college graduates work in villages? The nation has put much responsibility on these officers. In Chinese villages, feudal ideas which represent thousands of years of tradition are deep-rooted. The concept of patriarchy and human relations is contradicted by the democratic and legislative concepts found in modern society. College students who have received a quality education and understand these concepts can gradually help to change that the opinions of villagers. In addition, the development of science and technology needs more talented people who are cultivated and possess technology to lead the development of Chinese villages. This also helps to solve the current employment pressure that college students face while at the same time providing a way for the advancement of China's villages.
为了鼓励更多的人在农村发挥自己的特长,政府也对大学生村官实行一些优惠政策,比如大学生在农村创业有优惠, 合同到期后考公务员或者再找工作都尽量照顾等,让他们在农村工作的时候,少一些后顾之忧。
In order to encourage more people to bring their talents into full play, the government has also implemented a number of favorable policies for college officers who take up posts in villages. For example, college students are given preferential policies if they start an enterprise in the villages or if they take the civil service exam in that village or find other jobs after their original contract expires, which in turn helps to keep the college officers in the villages long-term.
图片来源:http://tupian.baike.com