老岳父也叫泰山

The Father-in-Law is also called "泰山"
Language:中文 pin yin English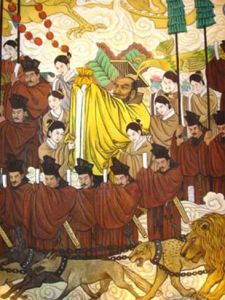 汉语里,妻子的父亲被称为岳父,不过,很多中国人也把岳父叫做泰山。这就奇怪了,泰山不是中国的一座文化名山吗?和岳父有什么关系呢?这里面,还有个有趣的故事。
In Chinese, the father of one's wife is also called "泰山". Isn't it weird that "泰山" (Mount Tai) refers to a famous mountain in China? What's its relation to the father-in-law figure? Here is an interesting story.
中国古代帝王有一种非常隆重的祭祀天地的仪式,叫做"封禅",因为古人认为泰山是所有山中最高的,所以皇帝在泰山封禅最为吉祥。不过因为泰山太高并且远离京城,历史上很少有皇帝真正能够去泰山祭祀的,唐朝的皇帝李隆基便是少数去过泰山祭祀的皇帝之一。
In ancient China, emperors conducted a solemn ceremony to worship both heaven and earth called "封禅"(to offer sacrifices to heaven). Because people of the time thought "泰山" (Mount Tai) was the highest among mountains, it was seen as auspicious to make heavenly offerings from its heights. However, because of its distance from the capital, few rulers ventured there apart from Li Longji, emperor of the Tang dynasty.
唐朝开元14年,皇帝李隆基到泰山祭祀,任命当时的宰相张说负责此事,他就把自己的女婿郑镒也带去了。按照以往的传统,封禅之后,随行的丞相以下的官员都可以升一级,郑镒本来是九品官员,张说偷偷地给他连升四级。后来李隆基看到郑镒连升四级觉得很奇怪,就问原因,郑镒说不出来,这时候旁边的黄幡绰说"这都是泰山的力量啊!"后来,人们就用泰山代指岳父了。开始的时候,这个词总含有借助岳父力量的意思,现在这层含义已经不那么明显了,当人们用泰山代替岳父时,多是表达一种尊敬的态度。
In the year 727, Li Longji traveled to Mount Tai and appointed prime minister Zhang Shuo to take charge. The ruler was accompanied by his son-in-law Zheng Yi. According to tradition, following the ceremony, all accompanying officials with ranks lower than that of the prime minister would be promoted. Zheng Yi was originally ranked at Level Nine, though Zhang Shou secretly promoted him to Level Four. Concerned, Li Longji questioned Zheng, who could not reply. Huang Fanchuo, standing next to him, said, "It was the power of Mount Tai!" Later, people used "泰山" (Mount Tai) to refer to father-in-laws. In the beginning, the term was meant to draw support of one's in-law. This implication has become less obvious with time. Now, when people use "泰山", it is to express an attitude of respect.
图片来源:
http://www.baike.com/wiki/