宫保鸡丁 Kung Pao Chicken
Language:中文 pin yin English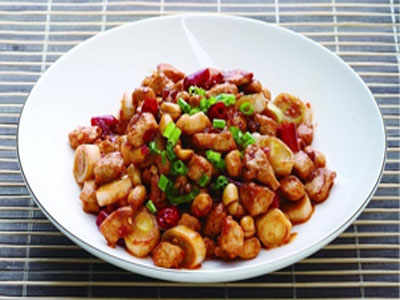 宫保鸡丁是川菜中的名菜,由花生、辣椒、鸡肉炒制而成。其中花生米香脆,鸡肉鲜嫩,整道菜酸酸甜甜又带着点儿辣。不光是中国人爱吃,就连外国人也特别喜欢吃。但说起宫保鸡丁的由来,很多人就不太了解了。
Kung Pao Chicken is a famous Sichuan dish in China with , chicken, peanuts, and hot pepper as the ingredients. In the dish, peanuts taste crisp, chicken tender, and the overall flavor is sour and sweet and a bit spicy. Not only the Chinese but also the foreigners enjoy it. However as to the history of the dish, not many people can give the right answer.
据说清朝有一位官员叫丁宝桢,是咸丰年间的进士,曾任山东巡抚,后任四川总督。他一向很喜欢吃辣椒与猪肉、鸡肉爆炒的菜肴。在山东任职时,他就命家厨制作"酱爆鸡丁"菜,很合胃口,但那时此菜还未出名。调任四川总督后,每逢宴客,他都让家厨用花生米、干辣椒炒制鸡丁,肉嫩味美,很受客人欢迎。后来他由于戍边御敌有功,被朝廷封为"太子少保",人称"丁宫保",于是其家厨烹制的炒鸡丁,也被称为"宫保鸡丁"。丁宝桢去世后不久,宫保鸡丁被四川当地官员作为贡菜献给皇帝,正式进军京城,成为享誉天下的一道名菜。
It is said that there was an official named Ding Baozhen in the Qing Dynasty, who was once the successful candidate in the highest imperial examination during the reign of Emperor Xianfeng.. He was appointed as the grand coordinator of Shandong province and then the governor-general of Sichuan province.. He always enjoyed fried dishes with pork or chicken and hot peppers. When he was in Shandong, he asked his cook to fry chicken in bean sauce, which is also a popular dish in China now. The dish was quite to his taste but the recipe was not widespread at that time. After he was transferred to the post in Sichuan, he always served a delicious dish of chicken cubes fried with chili and peanuts to his guests at home, which was much loved by all. Not long after, as he performed brilliant exploits in guarding the border and fighting the enemy, he was conferred the title of "太子少保 (Taizi Shaobao)" by the imperial court, and people then called him "Ding Kungpao". Therefore, the dish created by him was named "宫保鸡丁(Kung Pao Chicken)" accordingly. Shortly after his death, Kung Pao Chicken was recommended as a tribute to the emperor. From then on, it gradually became one of the most famous Chinese dishes in the world.