南京的玄武湖Xuanwu Lake
Language:中文 pin yin English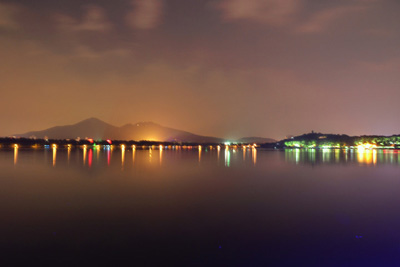 朋友是一个地道的南京人,土生土长,在游历了欧洲诸国之后,仍旧对古朴的金陵城充满爱意,从他的嘴里得知了这样一个美轮美奂的湖——玄武湖。
My friend was born and bred in Nanjing, who, having traveled around many European countries for many years, still harbors an affectionate attachment to his homeland. It is from him that I get to know about the fascinating Xuanwu Lake in Nanjing.
南京像一位饱经沧桑的老人,依旧在无怨无悔地奉献着自己。玄武湖便是老人人生经历的一个缩影,历经过去种种劫难,如今安详地关照着来自五湖四海的朋友和那些一如既往爱它的当地人。
Nanjing, like an old man who has experienced many vicissitudes of life, still provides people with whatever it has with no regrets. Xuanwu Lake is an important aspect of the splendid life of the old man. Weathering through all the hardships in the past, Nanjing still welcomes and embraces people from all corners of the world and attaches itself to the local people in good intimacy.
玄武湖,顾名思义,位于南京的北部("左青龙右白虎南朱雀北玄武")。它由五块绿洲组成,依次形成五处不同的自然景区,在不同方位不同季节里彰显自己的与众不同。
Xuanwu Lake is situated in the north of Nanjing. The city is said to be guarded by four divine animals in each of the four directions: Qinglong in the east, Baihu in the west, Zhuque in the south and Xuanwu in the north. Xuanwu Lake is composed of five oases, each of which becomes a distinctive scenic spot, exhibiting spectacular landscapes in correspondence to different seasons.
环洲里有碧波,有细柳。微风吹来,如同一位美丽的江南少女,婀娜多姿。樱洲作为洲中洲,用早春似锦的樱花向人们展示着它"花海"的名号。菱洲的山岚,壮实而雄伟。开辟最早的梁洲有每年壮观的菊花展,这一传统的习俗在朵朵菊花中不断地传承。别具一格的翠洲,如同其名,洲上绿树环绕,松、柏、柳、竹,样样不缺。
The branches of willows sway in the breeze above the blue ripples, and dance gracefully with little wafts of wind like beautiful maids of Southern China. Yingzhou is a special oasis embedded in an even larger oasis. There are cheery blossoms in the early spring, when people hemmed in by a sea of flowers. Clouds and mists in the mountains of Lingzhou convey to people a sense of sublimity and magnificence. Liangzhou, the earliest oasis yet developed, holds a grand display of chrysanthemums every year; this tradition has been carried forward here without interruption. Cuizhou, picturesque as its name indicates, is dotted with trees of various kinds, such as pines, cypress trees, willows, and bamboos, contributing to perfect verdant surroundings.
如今的玄武湖对游人免费开放。背着相机四处拍照的游人,嬉笑玩闹的孩子,坐看风景的老人,谈情聊天的恋人……其景其乐融融。夏日夜晚的玄武湖,尤为动人。在经历一天的"火炉"烘烤后,疲惫的人们纷纷来到湖边乘凉。湖水将五彩的灯光拉长,人们的谈笑声将白天的燥热扫除,广场上随歌起舞的人们忘却心中的烦恼……
Xuanwu Lake is free to tourists nowadays. People take their cameras here whose happiness know no bounds -- there are children laughing and jesting, old couples sitting together enjoying the amazing sceneries, and lovers exchanging kisses and loving whispers. Xuanwu Lake has in itself a distinctive charm in summer. People come to the lake in the evening after exposing themselves to the scorching sun in the daytime. The reflections of colorful lights are long and floating in the lake. The laughter of people sweeps away the stifling heat in the day; some of them dance on the square to relieve themselves from the burden and fatigue in their work.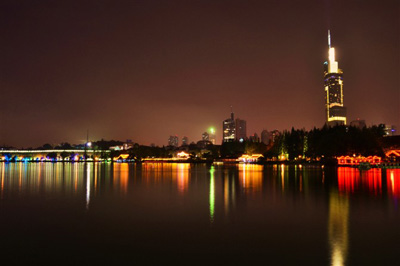 我总是在想,大自然与历史结合,为我们人类创造了一个个王朝,一座座池城,一年又一年地不断地为我们。
Nature and history have worked together to create so many dynasties and cities, which in turn contribute to picturesque landscapes of unequalled beauty year after year.
朋友常会用一首诗,来赞美一下他心中美丽的玄武湖:"江雨霏霏江草齐,六朝如梦鸟空啼。无情最是台城柳,依旧烟胧十里堤"。
My friend always quotes the poem "A Nanjing Landscape" to sing his praises of Xuanwu Lake – "Though a shower bends the river-grass, a bird is singing,/ While ghosts of the Six Dynasties pass like a dream / Around the Forbidden City, under weeping willows / Which loom still for three miles along the misty moat."