神秘的湖畔部落——《新疆行》之一 The Mysterious Lakeside Tribe---Travel to Xinjiang Ⅰ
Language:中文 pin yin English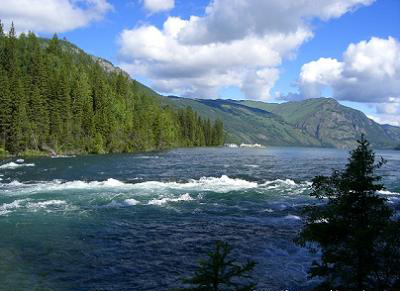 走进新疆的天山深处,穿越茫茫戈壁滩——古尔班通古特沙漠,再沿着丝绸之路翻越素有"金山"之称的阿尔泰山脉,就到了祖国的西北边陲,南西伯利亚区。这里就是著名的喀纳斯湖所在地。
Entering through the depth of the Tianshan Mountains in Xinjiang, crossing the vast Gobi Desert ---- the Gurbantünggüt Desert and following the Silk Roadtraverse the Altai Mountains, known as the "Mountains of Gold", , we arrive at the northwest border of China in the south of Siberia. This is where the famous Kanas Lake is located.
喀纳斯为蒙古语的音译,意为"峡谷中的湖",还有另一种解释是"美丽而神奇"。我国境内唯一流向北冰洋的河流——额尔齐斯河就是以喀纳斯湖为发源地。喀纳斯湖是蜿蜒在阿尔泰山谷中一个平缓宽阔的河段,河段四周雪峰耸峙,风景绮丽。冰山上的融雪汇成激流,穿山破壁奔泻而下,倾入云谲波诡的喀纳斯湖。喀纳斯湖是一条活水外流湖。湖水源源不断地顺着布尔津河汇入额尔齐斯河,以一去不复回的磅礴气势,不知疲倦地向遥远的北冰洋奔去。
Kanas is a transliteration of a Mongolian word meaning, "the lake in the valley", or according to another explanation, "beautiful and mysterious". The Ertix River, the only river in China which flows northward into the Arctic Ocean, originates in the Kanas Lake. It is a wide gently flowing reach which winds its way through the valley embraced by the snowcapped Altai Mountains forming a picturesque landscape. Melting ice from the mountains gathers together creating a torrent, which surges through the mountain cliffs and empties into the ever renewing Kanas Lake. It is a dynamic lake, whose water continually drawn by the flow of the Bu'erjin River converges into the Ertix River, running tirelessly to the faraway Artic Ocean in an unyielding majestic way.
从地图上看,喀纳斯湖的西北方向是哈萨克斯坦,东北方向是蒙古,而正北方最高峰——友谊峰的另一侧,就是俄罗斯。下面这张照片就是在边境拍摄的,界碑和河的另一侧就是哈萨克斯坦共和国。
Seen from the map, northwest of the Kanas Lake is Kazakhstan, to the northeast is Mongolia, and due north on the other side of Mount Friendship, the highest peak in the Altai Mountains, is Russia. The following photo was taken on the border; beyond the border marker on the other side of the river lies the Republic of Kazakhstan.