天涯海角

The ends of the earth
Language:中文 pin yin English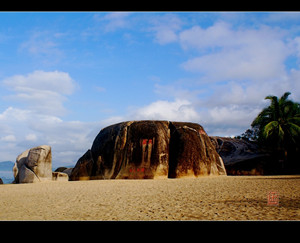 情侣们常常许愿发誓:我愿意跟你到天涯海角。怎么才能实现这个誓言呢?请他们去海南岛继续爱情吧!
Lovers often make the following pledge: I will follow you to the ends of the earth. But how to make this vow come true? Invite them to continue their love on Hainan Island!
"天涯海角"指天的尽头,海的边缘,一般形容非常远的地方。其实,在中国海南省的最南端有一个真实的"天涯海角",它就在海南省三亚市的海边。
"天涯海角"refers to the end of the sky and the edge of the sea, and is usually used to describe a place far away. In fact, there is a real "天涯海角" in the southernmost part of Hainan Province. It is the seaside area of the city Sanya in Hainan.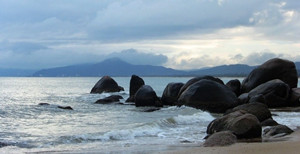 中国海南省远离大陆,独立成岛,在古时候,由于海南远离中原,交通极为闭塞,人烟稀少,土地荒芜,那些被皇帝贬官的罪臣通常会被流放到此。而那些人跋山涉水来到这里,面对茫茫大海,想到自身的遭遇,都会不由自主地发出"到了天之涯,海之角"的感叹,所以把这里叫做"天涯海角"。
Hainan Province is an isolated island far from mainland China. In ancient times, because of its isolation, closed-off transportation, scarce inhabitants, and uncultivated land, officials demoted by the emperor were exiled there. After they made their way there, having faced the boundless sea and reflected on their own bitter experiences, they would exclaim that they had reached the ends of the earth. Thus, it is called "the end of the earth."
清代雍正年间,当地官员命人在一块海滩巨石上刻了"天涯"二字,后来又有人在另一块巨石上题刻"海角"二字,从此以后,这里就成为一处天下闻名的风景点。
During the reign of Emperor Yongzheng of the Qing Dynasty, a local official asked someone to carve the word "天涯" (the end of the sky) on a huge beachside stone. Later, someone else carved "海角" (the edge of the sea) on another huge stone. From then on, it became a famous scenic spot.
天涯海角因为地处热带,所以没有真正的冬季。严冬时节,中国大陆都是冰天雪地,而这里却是遍地绿色,所以天涯海角是中国难得的全年能享受夏天的好去处。
Because it is in the tropics, 天涯海角 has no real winter. During severe winters, there is snow all over mainland China, but this island is still full of green trees. Therefore, it is a good place to enjoy a year-round summer in China.
图片地址:http://www.aitianya.cn/jsty_index.php