Language:中文 pin yin English
在杭州西湖南岸,有一座高塔,叫雷峰塔。它的前身是古代吴越国王为庆祝生子而建。雷峰塔经历刀光剑影,古塔已于1924年倒塌,现在的雷峰塔是2001年重建的新塔。
On the south bank of Hangzhou's West Lake stands a pagoda called Leifeng Pagoda, which was built by the emperor of the ancient state Wuyue to celebrate the birth of his son. Following wars and battles, the original pagoda collapsed in 1924 and was rebuilt in 2001.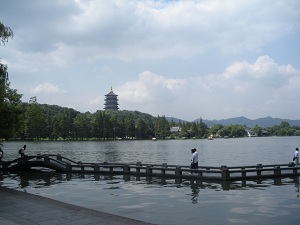 雷峰塔是西湖观光胜地,每当夕阳照在古老的塔上时,别有一番不一样的风景,"雷峰夕照"也就因此成为西湖十景之一。
Leifeng Pagoda is a scenic spot in West Lake. The peculiar way the sun sets on the pagoda is known as "雷峰夕照" (sunset glow at Leifeng Pagoda), which is one of the ten famous scenic spots in West Lake.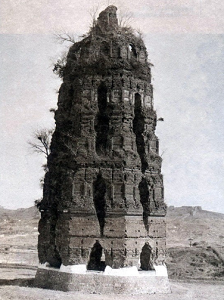 而真正让雷峰塔声名远播、家喻户晓是因为一个古老的传说——《白蛇传》。
《白蛇传》描写的是一个修炼成人形的蛇精与人的曲折爱情故事。白蛇修炼千年来到人间,只是为了找到当时救过自己的恩人许仙,在美丽的西湖,他们相遇相爱,生下孩子,但是人和妖的结合不为世俗和天理所容,白蛇被永镇雷峰塔底,她的孩子许仕林中了状元后,才将母亲救出,全家团聚。
因为白蛇对爱情的执着和善良的个性,千百年来,老百姓都盼望着雷峰塔倒掉,所以当1924年雷峰塔倒了之后,鲁迅等大文豪写了很多文章,来纪念这一历史性的事件。
The real reason why Leifeng Pagoda is so well-known relates to an ancient legend, The Tale of the White Serpent.
The Tale of the White Serpent depicts a winding love story between a man and a snake spirit who has cultivated herself into human form. The white snake, practicing asceticism for thousands of years, comes to the world of men in order to find Xu Xian, the benefactor who saved her once before. They have an encounter by the beautiful West Lake, fall in love, and have a child. However, their marriage does not accord with the principles of heaven and earth, so the white snake is held forever beneath the bottom of Leifeng Pagoda. After their child Xu Shilin attains the highest rank of government officialdom, he takes his mother out and the whole family is reunited.
For thousands of years, the common people expected the Leifeng Pagoda to collapse because of the white snake's tenacity to love and kind character. Then, after it toppled down in 1924, some great writers, like Lu Xun, wrote numerous articles to mark this historic event.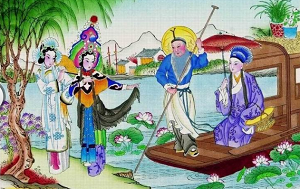 现在中国人说起雷峰塔,第一个反应就是雷峰塔下镇压着白蛇。虽然雷峰塔已经倒掉了,白蛇被就算被镇压也可以获得自由了,但是到西湖来旅游的人,都愿意去雷峰塔探一究竟。
Now, when Chinese people talk about the Leifeng Pagoda, their first reaction is how the white snake was buried underneath. Although Leifeng Pagoda has collapsed and the white snake has gained freedom, people who travel to West Lake are more than willing to visit the Leifeng Pagoda.
图片来源:http://bbs.zgchuan.com/thread-1687-1-1.html