Language:中文 pin yin English
美国《时代》周刊这样评价这个地方,它"位于北京市中心,是传统四合院的夹道小巷,酒吧、咖啡馆、餐厅、旅店林立,商场出售着以北京为主题的T恤衫和剪纸等手工艺品。如今的南锣鼓巷,商业兴盛,市场繁荣,商场每周都会定期开放。在南边入口处,为了便于修建地铁站,一些古老的四合院也将被拆除,这似乎吸引了更多的人到此游览,同时也推进着南锣鼓巷永不停息、沧海桑田般的时代变迁!"
Time magazine published the following review: "Nanluoguxiang is a narrow lane of traditional courtyards in the city center, jammed with bars, cafés, restaurants, hostels and shops selling Beijing-themed T-shirts and handicrafts like traditional paper cuttings. Business on the street has boomed, and shops close and open on a near weekly basis. Some old courtyards at the southern entrance of the street were recently torn down to make way for a subway stop, a change that is likely to bring even more visitors to this ancient street, and continue to drive its unceasing transformation."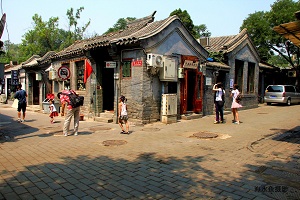 这个地方就是南锣鼓巷。南锣鼓巷北起鼓楼东大街, 南止地安门东大街,全长786米, 宽8米,它东西各有8条胡同整齐排列着,西面的8条胡同是福祥胡同、蓑衣胡同、雨儿胡同、帽儿胡同、景阳胡同、沙井胡同、黑芝麻胡同、前鼓楼苑胡同;东边的8条胡同是炒豆胡同、板厂胡同、东棉花胡同、北兵马司胡同、秦老胡同、前圆恩寺胡同、后圆恩寺胡同、菊儿胡同。
This is Nanluoguxiang. North of Gulou East Street and south of Di'anmen East Street, Nanluoguxiang is 786 meters in length and 8 meters in width. From the east to the west, there are eight hutong alleyways arranged in order on either side. The eight west hutong are Fuxiang Hutong, Suoyi Hutong, Yu'er Hutong, Mao'er Hutong, Jingyang Hutong, Shajing Hutong, Heizhima Hutong, and Gulouyuan Hutong. The eight to the east are Chaodou Hutong, Banchang Hutong, Dongmianhua Hutong, Beibingmasi Hutong, Qinlao Hutong, Qianyuan'en Hutong, Houyuan'en Hutong, and Ju'er Hutong.
南锣鼓巷的精髓就在于那些胡同里的历史遗迹以及它们流传下来的传统
文化气息,从明清两朝官宦达人到民国文学巨匠,南锣鼓巷见证了中国几百年来历史的巨变,这里成为了最具"京味儿"的著名景点之一。如果你想体现地道的北京胡同生活,就来这里。但是每逢假期,南锣鼓巷就人山人海,临街的商铺里人头攒动,卖东西的小贩吆喝声此起彼伏,让人不禁怀疑这难道就是文化气息?这就是北京味儿?也许,这是很多景点都遇到的进退两难的问题。
The soul of Nanluoguxiang lies in the historical remnants of these hutong as well as their traditional cultural ambience. From the ancient officials of the Ming and Qing Dynasties to the literary masters of the Republican Era, Nanluoguxiang has witnessed the great historical changes of hundreds of years in China, making it a scenic spot full of Beijing's local flavor. If you want to experience authentic hutong life in Beijng, come here. However, it is full of people on holidays. Street-facing shops are crowded with visitors, and vendors' shouts rise and fall, making people doubt whether or not it has true cultural ambience. Is it the essence of Beijing? Perhaps this is the dilemma that many scenic spots face.
图片来源:http://xrdzpn7.blog.163.com/blog/static/186902146201181145745429/