Language:中文 pin yin English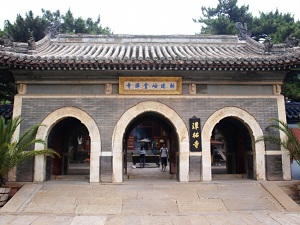 在北京西部山区中,有座古寺,民间有这样一句谚语形容它的古老,"先有潭柘寺,后有北京城",这座古寺就是潭柘寺。潭柘寺始建于西晋时期,开始称为嘉福寺,唐朝时改称龙泉寺,金朝时名为万寿寺,到了清朝,康熙皇帝赐名岫云寺,但民间一直称之为潭柘寺。相传在建寺之前,那里古树参天,在群山之间有一眼泉水,称为龙潭,在泉水的滋养下,草木茂盛,其中柘树最为繁盛,于是,龙潭、柘树的组合成就了潭柘寺的寺名。
In the mountainous area west of Beijing, there is an ancient temple whose past is described by the following proverb: "First there was Tanzhe Temple, and then there was Beijing." The ancient temple is Tanzhe Temple. It dates back to the Western Jin period, when it was named Jiafu Temple. During the Tang Dynasty, its name was changed to Longquan Temple and then Wanshou Temple in the Jin Dynasty. During the Qing Dynasty, Emperor Kangxi named it Xiuyuan Temple. But people have always called it Tanzhe Temple. According to legend, before the temple was built, that area had ancient trees reaching the sky, and a mountain spring named Longtan. Nourished by the spring water, trees and grass flourished, especially the Zhe tree, or silkworm thorn. Therefore, the name of Tanzhe Temple is combination of the Longtan spring and the Zhe tree.
潭柘寺在元、明、清三朝都是皇家寺院,元代皇帝忽必烈的女儿妙严公主在此修行。这位公主也许厌倦了父亲的征战杀戮,放弃了锦衣玉食的生活,皈依佛门来到青灯古佛前,她每天都参拜观音菩萨,致使在砖面上留下了深深的足迹。明代万历年间孝定皇太后命人取走这块砖,装进木匣,奉于皇宫之中。清朝康熙、乾隆皇帝也经常临幸潭柘寺。
Tanzhe Temple was a royal temple during the Yuan, Ming, and Qing Dynasties. Princess Miaoyan, daughter of the Yuan Dynasty Emperor Kublai, cultivated herself here according to Buddhist doctrine. This princess was perhaps fed up with battles and slaughter, giving up her life of luxury. She converted to Buddhism and paid respects to the Goddess of Mercy every day, leaving deep footprints on the bricks. The empress dowager during the reign of Emperor Shenzong in the Ming Dynasty (1573-1620 AD) ordered people to take this brick away and put it in a wooden chest, worshipping it in royal court. Qing Dynasty Emperors Kangxi and Qianlong often visited this temple.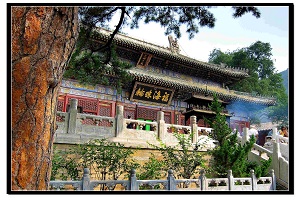 也许是潭柘寺在历史上与皇家源远流长的关系更加增添了这座古老寺庙的神秘,民间传言去潭柘寺许愿特别灵,甚至有这样的说法"火烧潭柘寺,水淹北京城",意思是如果潭柘寺失火的话,北京城就会有水患之灾。如今,潭柘寺依然静静地座落在大山中间,千年古树默默地见证着历史的沧桑,不过现在它迎来的是来自四面八方的游人,而不是帝王。
Perhaps the long-standing historical relationships between Tanzhe Temple and royal families have increased mystique of this ancient temple. It is rumored that the vows made in Tanzhe Temple are very effective. There is even a saying: "If Tanzhe Temple burns, Beijing will flood," meaning that if Tanzhe Temple ever catches fire, Beijing will be flooded. Nowadays, Tanzhe Temple still quietly stands among the mountains and ancient trees of thousands of years, silently witnessing the vicissitudes of history. But now, it greets visitors far and near, not the emperors.
图片来源
http://wangyongq246.blog.163.com/blog/static/322750812010101995982/
http://zone.it.sohu.com/forums/thread-6523624-1-1.html
http://blog.tech110.net/?217/viewspace-59680