Language:中文 pin yin English
在北京西北部,有一片断壁残垣,那里只有石柱和石雕,高大的石柱
巍然不动,精美的石雕早就失去了往日的光彩,很多人都不会想到这里曾经就是在一百年多年前享誉世界的皇家园林——圆明园。
In northwestern Beijing, there are patches of dilapidated walls, with nothing but stone pillars and carvings. Tall stone columns stand firmly, and elegant stone carvings have lost the glory of their former days. Many people would not think that over one hundred years ago, this was a world famous royal garden – the Old Summer Palace.
圆明园始建于清朝康熙年间,后来历经雍正、乾隆、嘉庆、咸丰、同治五朝的修建,圆明园成为"万园之园",法国作家雨果曾说"你只管去想象那是一座令人心神往的、如同月宫的城堡一样的建筑,夏宫(指圆明园)就是这样的一座建筑。"那时候的圆明园雕栏玉砌,湖光山水,满目都是奇花异草,琳琅满目的艺术珍品不计其数。皇室每年都在这里举行各种活动。
Started during the reign of Emperor Kangxi in the Qing Dynasty, the Old Summer Palace was constructed during the reigns of Emperors Yongzheng, Qianlong, Jiaqing, Xianfeng, and Tongzhi. The Old Summer Palace became known as the "Garden of Gardens." French writer Victor Hugo once wrote, "Imagine some inexpressible construction, something like a lunar building, and you will have the Summer Palace." At that time, the Old Summer Palace contained richly ornamented palace buildings. All around were exotic flowers and plants, with dazzling treasures of art beyond counting. Every year, the royal family held all kinds of activities there.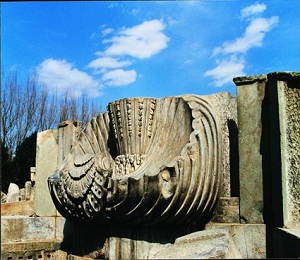 圆明园的园林多以水为主题,其中不少是直接吸取江南著名水景的意趣。圆明园还有个显著特点,就是大量仿建了全国各地特别是江南的许多名园胜景。清朝乾隆皇帝曾经六次南巡江浙,每至一地,凡他中意的名山胜水、名园胜景,就让随行画师摹绘成图,回京后在园内仿建。所以在当年,不出北京,皇家的人就能在圆明园里感受到江南的明媚。
The gardens of the Old Summer Palace thematically showcased water; many were based directly on the famous waterscapes of the Yangtze River region in southern China. The Old Summer Palace also had a striking uniqueness, which was the large number of garden styles replicated from all across China, particularly the Yangtze River region. Emperor Qianlong of the Qing Dynasty made six official inspection trips to this part of China; each time he visited a famous scenic area or garden, he instructed a painter to record the landscape for replication in Beijing. Thus, at that time, the royal family could enjoy the scenery of southern China in the Old Summer Palace without leaving Beijing.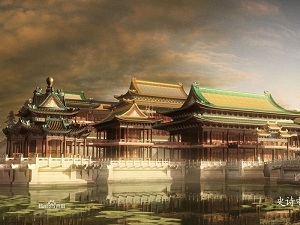 这样一座皇家园林,却毁于国家的衰弱。1860年,第二次鸦片战争中圆明园被毁,如今的圆明园只剩下遗址,不过,当你漫步在里面,倒会更好的体会历史的沧桑。
This royal garden was ruined by China's feeble state. In 1860, the Old Summer Garden was destroyed during the Second Opium War. Today, only relics remain in the Old Summer Palace. But, when you go there and take a stroll, you can better experience history's ebb and flow.
图片来源:http://www.yuanmingyuanpark.com/zy/fengguang.htm