Language:中文 pin yin English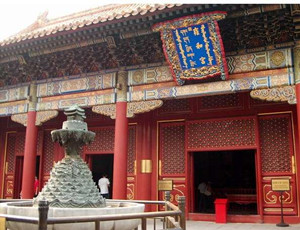 如果你经过北京北二环的马路,就能看到一座金碧辉煌的古代建筑群,当南风吹起时,有时甚至能闻到从里面飘出来的香火味儿。这里就是雍和宫。
If you pass through the north end of Beijing's second ring road, you will see a magnificent ancient building complex. When the south wind blows, you may even detect the smell of burning emanating out from inside. This is the Yonghe Lama Temple.
雍和宫现在是北京最大的藏传佛教寺庙,它的前身是清朝皇帝雍正登基前的府邸。雍正继位后,把这个府邸的一半赏给藏传佛教的高僧,后来,雍正的儿子乾隆即位后,又在此基础上大兴土木,雍和宫就成了皇家寺院。而由于雍和宫出了雍正、乾隆两代帝王,成为了"龙潜福地",与别的寺院相比,它红墙黄瓦,一切都是按照皇家的规格来修建的。
Yonghe Lama Temple is Beijing's largest Tibetan Buddhist temple, and stands in the place of what used to be the mansion of the Qing dynasty emperor Yongzheng before he ascended the throne. When he came to power, he granted half of it to one eminent Tibetan Buddhist monk. Later, when his son, Emperor Qianlong, was enthroned, he again built on this foundation, and Yonghe Lama Temple was turned into a royal temple. Because of its relationship with the two emperors, the temple became a blessed place. In contrast with other temples, it has red walls and yellow tiles. Every aspect of the temple was built in accordance with royal standards.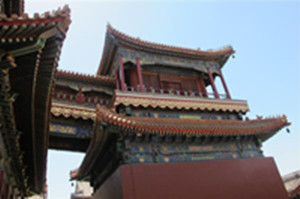 雍和宫有一尊用白檀香木雕刻而成的佛像。这座佛像是用一棵白檀树雕刻而成,高26米,直径8米,佛像全身贴金,镶嵌着各种珠宝,据说佛像身上披的衣饰一共用了五千多匹缎子,这座佛像是中国最大的独木佛像,已经被收录进了吉尼斯世界纪录。
Inside the Yonghe Lama Templehere is a figure of Buddha carved in white sandalwood. It was made from a single sandalwood tree 26 meters in length and 8 meters in diameter. The figure's whole body is covered in gold leaf and inlaid with all kinds of precious stones. It is said the figure's clothes were made from over 5,000 bolts of satin. The figure has been recorded in the Guinness World Records as China's largest statue of Buddha carved from a single piece of wood.
像很多佛教圣地一样,大年初一,雍和宫都会迎来成千上万上香的人,这几年穿越小说很流行,雍和宫经常成为传说中能穿越古今的神秘地方,更加带有神秘色彩。既有佛家的虔诚,又有皇家的雍容,雍和宫果然非同凡响。
Like many Buddhist holy land, thousands of people go to the temple to pray on the Lunar New Year's Day. With the popularity of the time-travel novel these years, Yonghe Lama Temple has become a mysterious place to travel through ancient and modern in the legend which has more mysteries. With both the piety of Buddhist and the royal grace, it is definitely extraordinary.
图片来源:
http://guide.yododo.com/013EC16C36F92F3FFF8080813EBE6F88/2
http://tour.tssv.cn/shi/201111/137953.html
http://bj.bjlxtx.com/info_827.html