卢沟桥简介 Lugou Bridge - Beijing
Language:中文 pin yin English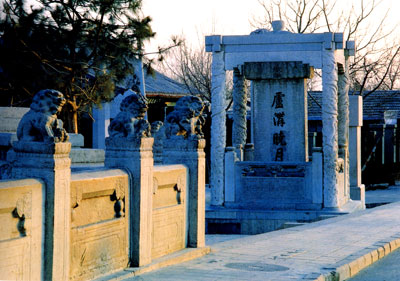 卢沟桥又称芦沟桥。在北京丰台区卢沟桥镇永定河上。它是北京现存最古老的石造联拱桥。永定河旧称卢沟河,桥亦以卢沟命名。
卢沟桥始建于中国北方的金朝(公元1189年),清朝康熙时毁于洪水,又于1698年重建。13世纪意大利著名的旅行家马可?波罗在他的游记中,称赞"它是世界上最好的、独一无二的桥"。
卢沟桥是根据永定河水流的特点设计的。桥身全部都用白石,全长21—2.2米,加上两端引桥,总长266.5米。卢沟桥还以其精美的石刻艺术而闻名世界。桥的两侧有280根望柱,柱头刻着莲花座,座下为荷叶墩。望柱中间嵌有279块栏板,栏板内侧与桥面外侧均雕有宝瓶、云纹等图案。每根望柱上有金、元、明、清历代雕刻的数目不同的石狮,其中大部分石狮是明、清两代原物,金代的已很少,元代的也不多。这些石狮千姿百态,生动逼真,极富变化,是卢沟桥石刻艺术的精品。由于桥上石狮多得叫人无法数清楚,因而北京地区流传着一句话:"卢沟桥上的石狮子——数不清"。1961年,文物工作者采用编号的办法,共清点出石狮485头。1984年,又一次核查,查清桥上的石狮多达489头。
卢沟桥的东头是宛平县城。1937年7月7日在这里爆发了"卢沟桥事变",从此打响了抗日战争,而宛平县城的城墙上至今还留着累累弹痕。 
词语小帖士:
石造联拱桥:每两个石拱之间有石砌桥墩,把各个石拱联成一个整体。由于各石拱相联,所以这种桥叫做联拱石桥
望柱:古代大型建筑物及桥梁等,常有石栏杆相衬托,那些支撑石栏杆之间的石柱就叫望柱。
Lugou Bridge stands over the Yongding River of Lugou Bridge County of Fengtai District of Beijing. It's the oldest multiarched stone bridge ever preserved in Beijing.
Yongding River used to be called Lugou River. The bridge was also named after it.
Lugou Bridge was first built in Jin Dynasty in 1189 in North China. It was destroyed by the flood in the Kangxi Age of Qing Dynasty and was rebuilt in 1698. As the famous Italian travel-notes writer Marco Polo wrote in his journal, "It is the greatest, incomparable bridge in the world".
Lugou Bridge was designed according to the feature of the currents of Yongding River. It is built of solid granite, 266.5 m. in length, including the bridge approaches on the two ends. Lugou Bridge is also famous for its stone sculpting art. The bridge is supported on 280 pillars, with lotus seats and lotus leaf frusta on them. The bridge has 279 parapet stone slabs between the pillars. The inner side of the slabs and outside of the bridge are carved with images of clouds and vases. On each pillar stands various stone lions carved in dynasties of Jin, Yuan, Ming, Qing. Most of them were made in Ming and Qing. Those carved in Jin and Yuan are rare. They are of various postures, as alive as real ones. A saying in Beijing said that there are countless lions on Lugou Bridge. In 1961, by numbering the stone lions, people finally figured out there were altogether 485 stone lions on the bridge. In 1984, after a careful reexamination, the number became 489.
In the east of Lugou Bridge lies Wanping County. It is where the "Lugou Bridge Incident" took place on July, 7th, 1937, and thereby started the War against Japanese Invasion. You can still see the shot marks on the city wall of Wanping County even today.
Notes:
Multiarched Stone Bridge: The bridge is composed of multiarches, connected by piers.
Pillar: or balusters;the ancient bridges are often supported by pillars.